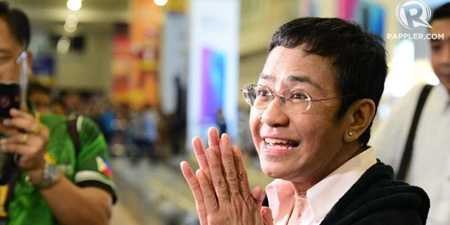 JournalismPakistan.com December 03, 2018


Maria Ressa, the editor of Philippines online news outlet, Rappler, returns to the Philippines with a warrant issued for her arrest over tax fraud.
The International Federation of Journalists (IFJ) and its affiliate the National Union of Journalists of the Philippines (NUJP) have condemned the arrest warrant and called for the warrant to be cancelled.
In October, the government accounted that they would be charging Ressa and Rappler with five counts of tax fraud. The Department of Justice confirmed last week it was charging Rappler with three counts of failure to file returns and one count of tax evasion. The charges carry heavy fines and jail sentences of up to 10 years.
On Sunday, December 2, Ressa returned to the Philippines after several weeks of travel, and said she came back to "do what I need to do to face all this."
The charges against Rappler and Maria Ressa come after a targeted crackdown by the Duterte Administration. In January the Philippines Securities and Exchange Commission (SEC) ordered to revoke Rappler's operating license over allegations that Rappler had received investment funds from the international investor Omidyar Network, and that it also gave the investors control over the media company, in violation of the Constitution.
In February, Rappler journalist Pia Randa was banned from Malacanang, the Philippines Presidential Palace.
The NUJP said: "President Rodrigo Duterte has never bothered to disguise his loathing for Rappler and critical media in general, repeatedly threatening to shut down news outfits he dislikes and insulting individual journalists, particularly those that doggedly document his brutal war on drugs and the growing number of corruption scandals hounding him and his administration. More than his inability to tolerate dissent, Duterte's relentless persecution of media appears to be part of the increasingly authoritarian direction his presidency has taken, as seen in the recent expansion of coverage of the state of national emergency he declared in September 2016 and his even more recent suggestion to create "death squads" to hunt down "prospective" – not even actual – rebels."
The IFJ said: "We call for the charges against Rappler and Maria Ressa to be immediately revoked. The ongoing crackdown by the Duterte administration against critical voices and particularly Rappler are a violation of the Philippines' free press and detrimental to the country's democracy. We stand in solidarity with Rappler and Maria in fighting for freedom of expression and the press." – IFJ media release/Photo: Rappler