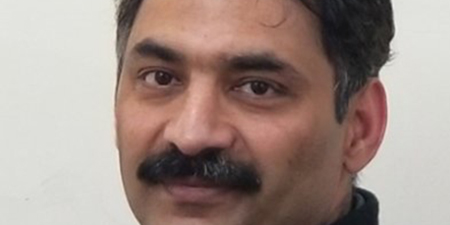 JournalismPakistan.com November 24, 2022


ISLAMABAD—Investigative journalist Ahmed Noorani (pictured) has defended his story on the assets of Chief of the Army Staff Gen. Qamar Javed Bajwa and his family, along with publishing their tax details.
In an interview with VoA, he said if it is in the interest of the public, the tax details of the public office holders can be made public. However, he admitted the fact that the tax returns of a private individual should strictly remain between the filer and the state.
"There is a debate in journalism…the tax details of a private citizen should not be made public. But if a journalist gets hold of any information regarding public office holders, which is authenticated and is in the interest of the public, that information is made public."
The federal government ordered an inquiry into the publishing of the tax returns of the general and his family. Minister for Finance Ishaq Dar said two culprits, one in Rawalpindi and the other in Lahore, have been identified.
Noorani said when a journalist gets such information, he needs to confirm that it is not fake. "Then you have to see if it is wrong or unusual and that the public has the right to know about it as a constitutional right, then you can report it."
He added that Fact Focus is the first organization in Pakistan that issued the complete tax record of a sitting prime minister. He was referring to former Prime Minister Imran Khan. "We issued the 40-year record of Imran Khan. At that time, our website was not closed down."
When he was asked about the authenticity of the documents, he said the finance minister had authenticated them by saying that this data had been leaked. "Instead of ordering a probe into how this 12.5 billion rupees assets have been made, he has ordered an inquiry. He is saying kill the messenger."
He said the authenticity of the documents had not been challenged.
On the Fact Focus website closure in Pakistan, Noorani, a known critic of Imran Khan, praised him for not shutting down the website when his 40-year tax record was published. "But PMLN just closed down the website."
Photo: Twitter (@Ahmad_Noorani)