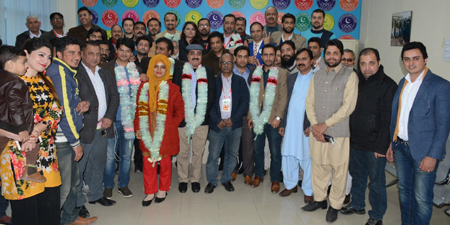 JournalismPakistan.com December 27, 2017


ISLAMABAD – Afzal Javed of Founder Group was elected the president of Rawalpindi-Islamabad Sports Journalists Association (RISJA) for two years in elections held at the Pakistan Sports Board (PSB) Media Center Wednesday.
In a close contest, Javed edged out Mohsin Ijaz 19-14 with the third contestant Raja Shafiq securing 11 votes.
For the position of secretary, Nasir Naqvi and Yasir Nazar got 15 votes each. Zulfikar Baig (14) also competed well. Naqvi was asked to continue as secretary for 2018 with Yasir talking over the position for the year 2019.
Founder Panel's Zahid Yaqoob Khawaja was elected the senior vice president securing 22 votes as against Zahid Awan's 17.
Founder Panel also won the slot of treasurer with Abdul Qadir getting 17 votes defeating Shah Khalid who got 15.
Aqeel Anjum (15) and Ambreen (15) were elected joint secretaries.
Chief Election Commissioner Nasir Aslam Raja announced the results.
Meanwhile, senior sports journalists Abdul Mohi Shah, Shakil Awan, Faheem Anwar, Kashif Abbasi, Abid Malik, Shaharyar Khan and Zahid Farooq Malik congratulated Afzal Javed on winning.