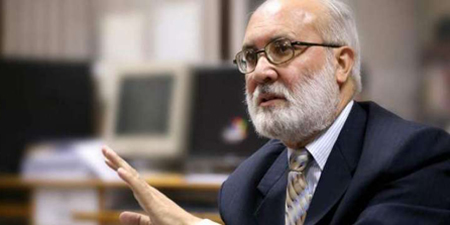 JournalismPakistan.com July 27, 2018


ISLAMABAD - As Pakistan prepares for the government of Pakistan Tehreek-e-Insaf, journalists continue to express their views through tweets, some cautiously welcoming Imran Khan as the new prime minister while others trying to remind everybody about alleged poll rigging.
Waqt News employee Matiullah Jan, who supported Pakistan Muslim League-Nawaz, did not seem to like Imran Khan's victory speech. He pointed out that the speech was full of "I" and not for once Imran named the party itself. He likened it to the speech the captain made after winning the World Cup in 1992.
ARY News presenter Kashif Abbasi liked the speech. "What a good speech by imran Khan.. forget about the political rivalries, look ahead to solve the problems and best of all...lemme say as expected 'jo halqa kaho ... khol doonga'".
Veteran journalist Rahimullah Yusufzai (pictured) asked the rival political parties to accept defeat. "Losers in Pakistan don't concede defeat, but 79-year old Ghulam Ahmad Bilour did just that. He commented Imran Khan is favourite personality of people in KP. Having lost his Peshawar seat to PTI & his nephew earlier in terrorist act, can he inspire other losers to accept defeat?"
Hussain Haqqani, the former envoy to the US, simply uploaded the editorial of Washington Post which says: "Pakistan's likely new leader is a Taliban sympathizer". He also posted a cartoon in The Times London in which a giant army man is helping Imran Khan to bat as others are shown fielding.
Irfan Hussain, who writes a weekly column for Dawn, expressed his disappointment in a tweet. "I wrote recently that large-scale rigging would be difficult on Election Day. How wrong I was, though I have witnessed every election since 1970. Good luck with maya Pakistan after this stolen election, #ImranKhan."
Aamer Ahmed Khan was also not happy with the way the results have been announced. "Totally caught with their pants down. But masterful use of the media - using a 1% vote count to create the impression of a PTI win, kick-starting celebrations and then withholding results to retrofit the planned mandate. Who will remember this a week from now?"
Mubasher Zaidi, one of the hosts of the program Zara Hut Kay on DawnNews, appeared to reject the allegations of rigging. "Despite being a fierce critic of @PTIofficial I believe there's little meat in allegations of rigging. It was an ECP screw up that created suspicion and confusion #ElectionPakistan2018."
Wahajat S Khan, the host of talk show Mahaz, tweeted his picture in a jeep with a flag of PTI, saying it's time to move on.
Jibran Nasir, who contested polls from a provincial assembly seat in Karachi, said the polls were not transparent. "As per ECP our final count is 6,109 votes in PS111 and we stand at 5th behind PTI, MMA, PPP, PMLN & ahead of MQM, PSP, GDA & TLP. We maintain that Elections were not transparent and severe irregularities were noted. We dont blame any Party but ECP. We will contest this result."
Veteran journalist Imtiaz Alam congratulated PTI on its win. "Congratulations Imran Khan and PTI on your more than expected victory. Now it's your turn to fulfill your promise of institutional reforms and providing good governance. Let's see how and how far he CHANGES the STATUS-QUO?"
Photo courtesy: UrduPoint