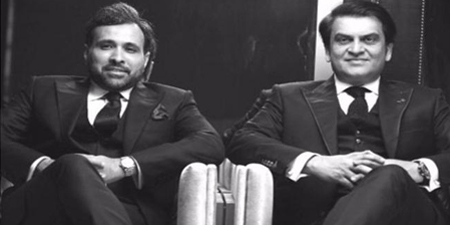 JournalismPakistan.com February 17, 2018


KARACHI - Geo Television Network has announced that Abdullah Kadwani and Asad Qureshi of 7th Sky Entertainment have become part of Geo Entertainment Holdings.
The News reported Saturday Kadwani has taken charge as the Group Managing Director Entertainment and Asad Qureshi as the Chief Operating Officer.
The paper said they will be responsible for the bottom line of all units that come under it which include Geo's Entertainment TV channels including Geo and Kahaani, Production House, Geo Films, Fire Records and all other entertainment properties of Geo Network.
Kadwani is a Pakistani actor, director, marketer and producer who brings decades of media-related skill sets including performing arts, advertising, media marketing, sales, and production. He has more than 25 years of experience in the television industry.
Asad Qureshi has extensive experience and has played an instrumental role in bringing innovation to the Pakistan media industry.
Since 2004 he has been the director and founding partner of 7th Sky Entertainment, Pakistan's premier broadcast, and film entertainment company.
Photo: The News