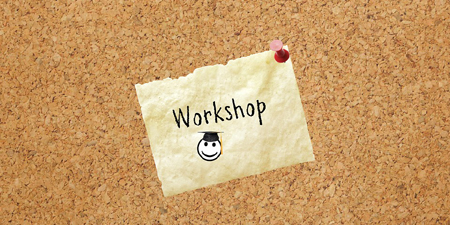 JournalismPakistan.com May 30, 2013 By Chatterbox

Absolutely positively confident that you must have been bamboozled by the headline. I apologize. Let me say from the very get go that neither have anything in common other than plenty of time on their hands.
But first of all, a 'workshop trekkie' is somebody who flits from workshop to workshop with apparently nothing else to do. An online mullah is somebody who instructs you to offer Fajr prayers even as he delights in the virtual world of Facebook.
You now have a pretty good idea of what's to follow. Ho hum…so let me have a bash.
I'm absolutely at loss as to what it is that compels allegedly reasonable and professional journalists to waste their time at so called 'capacity building' and 'innovation-based' workshops organized by dubious experts and self-centered organizations that have seamlessly fine-tuned this type of swindle into perfect money-making, propaganda and self-promotional opportunities.
Events advertised and promoted through social and conventional media have been organized across the country and avidly lapped up. 'Gender empowerment' workshops, 'investigative reporting' workshops, 'enhanced anchoring' workshops, 'how to cover political events' workshops, 'media sensitization' workshops, 'digital security' workshops, 'reporting on labor and gender issues' workshops, 'how to join an NGO' workshops, 'usage of political correctness' and 'how to saturate your work and language with clichés and fixed jargon' workshops.... the list is never ending.
The only good workshop I care to know is about three kilometres from my home in Gulberg and that is where Ustad Nazeer fixes my 1986 Nissan.
Why do I have it in for these workshop trekkies and organizers?
Very simple. It's because they are foisting unwanted and impractical work practices on Pakistan's media. Just like western democracy apparently does not work for us, so too is the case of benchmarking our media against western media practices and techniques. I won't deny some of them work some of the time, but not always and that's not good enough. Clichés and imitated vocal and body mannerisms is not going to improve our media either. On the contrary it makes it look fake and convoluted like a bunch of circus monkeys.
Pakistan's electronic media is young and certainly a bit raw, but it's not that bad where we have to mindlessly follow every move ditto. A little work here, a little guidance there, some self-belief and conviction of one's identity and what actually does work will certainly go a long way. But when you have so-called 'celebrity' journalists urging the country's media to please have a look at how disaster reporting should be done with the CNN's coverage of the devastation wreaked by tornadoes in America's Midwest being the prime example of how reporting is done, there is only so much hope one can harbor.
Please. CNN's reporting is overly clichéd, heavily formatted, ruthlessly filtered and so repetitive that it makes you wonder if you have died and are being played in a loop and have gone to virtual hell. The facial expressions and body language of the anchors and reporters is so overly dramatic that it's all I can do from barfing.
And this is what we go to workshops to learn!!
Or is it?
One apparent journalist and social media junkie has taken it upon herself to describe the 'delightful' or 'uncomfortable' walks she indulges in before or after such workshops in various locales, the state of roads, punctuality or lack thereof at workshops, the attendance, the state or import of cultural and historic sites she gets the opportunity to visit, the food she eats, her morning constitutional....but not a word of what was actually learned or imparted at the workshop.
What did she learn there?
And wasn't the primary purpose of attending such events getting the opportunity to pass on the knowledge, to share the lessons learned?
Apparently not!
Not a written word in any of the newspapers or magazines; nothing even on Facebook other than the description of those walks and food consumed or a general giss-gass on the prevailing weather.
And the same is the case with all those other trekkies who go, sit, pretend to participate, get their certificates, shake hands, and come back to do nothing. Mission accomplished.
But then why shouldn't they?
All expenses are paid for by some NGO or their parent organization, hotel, travel and food included. That is a good deal if ever.
Now that's the life.
One even gets plenty of opportunities to discuss the plane or car trips to and from the location of the workshop and better still, the weather. Of course the weather, that evergreen and riveting topic, is always so, so interesting.
Ever thought of joining a weather channel?
And now that other lot, the online mullahs...
Suddenly there seems to be mushrooming of these guys from all corners of the virtual and social media world. Nawaz Sharif has not set up government yet and we have already been told by the Council of Islamic Ideology that DNA evidence will not be admissible as proof of rape and that Zia's dreaded Blasphemy Law actually protects minorities.
Worse still, online mullahs are coming out of their closets to agree with them. One even had the audacity this morning to tell me to get off FaceBook and offer Fajr prayers.
What was he doing on Facebook and why wasn't he offering his prayers?
This guy is a journeyman two-bit reporter who got lucky when he was hired by CNBC before being transferred to Samaa. He's now added the qualification of 'Naqshbandi' to his name. It wasn't there before. So much for freedom and development in the days ahead!
Should we prepare for an invasion of more such online mullahs and what will be their impact?
(Chatterbox is a senior journalist/analyst who is based in Lahore and has worked in the UK, Dubai and Pakistan in various capacities)