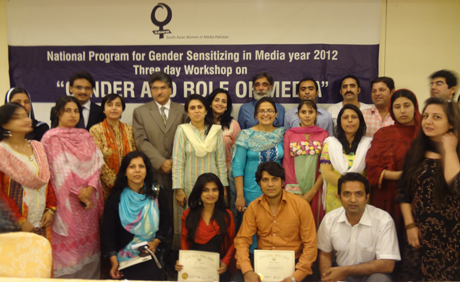 JournalismPakistan.com July 24, 2012
ISLAMABAD: The South Asian Media School (SAMS) conducted a three day workshop on "Gender and Role of Media" here.

The event was organized in collaboration with the South Asian Women in Media (SAWM).

The workshop at the Holiday Inn was well-attended by prominent journalists. The basic objective of this workshop was gender sensitization of media personnel and the portrayal of women in media.

According to the participants, such workshops highlighted the dynamics and impact of gender roles on society and raised the issue of the usage of insensitive words, phrases and responsibility of socially responsible journalists while reporting on gender.

"We must stop sensationalizing the violence and abuse against women," said Zoia Tariq, Registrar at the South Asian Media School (SAMS). "Media can make a huge impact on our society's attitude towards women."

Later, certificates were distributed among the participants by Raja Shafqat Abbasi, Chairman Press Council of Pakistan.