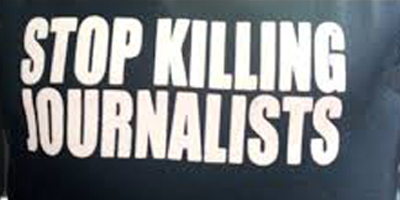 JournalismPakistan.com December 24, 2014
ISLAMABAD: As many as 60 journalists were killed worldwide in 2014 in relation to their work, compared with 70 who died in 2013. Syria turned out to be the deadliest country for journalists with 17 deaths in 2014, according to special report published by the Committee to Protect Journalists (CPJ).

CPJ says it is investigating deaths of at least 18 more journalists to determine whether they were work related. "In Pakistan, which ranks among the most dangerous places for the press over time, three journalists were killed for their work, a decline from previous years," the report says.

The CPJ also mentions attacks on Geo News senior anchor Hamid Mir and TV anchor Raza Rumi in its detailed report on threats to journalists in Pakistan.

The Syrian conflict led to the deaths of at least 17 journalists in 2014, bringing to 79 the overall number of journalists killed in the country since the conflict began in 2011, it said.

The report says the local reporters in any country are facing more threats than Western journalists working in conflict zones like Syria, Afghanistan and Iraq.

"Almost half of the journalists killed in 2014 died in the Middle East. Around 38 percent of the total died in combat or crossfire," it says.