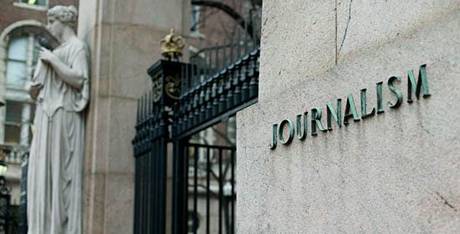 JournalismPakistan.com September 06, 2013
NEW YORK: This year's winners of the oldest international award in journalism were announced on Thursday by Columbia University's Graduate School of Journalism.
The Maria Moors Cabot Prize, founded in 1938, honors journalists who've covered the Western Hemisphere and furthered inter-American understanding through their reporting. The award was given to The New Yorker writer Jon Lee Anderson, documentary photographer and freelance writer Donna DeCesare, Brazilian investigative reporter Mauri Konig and Colombian newsmagazine editor-in-chief Alejandro Rubino Santos, the university said.
"The Cabot Prize has long held a special place in our mission because it recognizes courageous reporting about Latin America, often in countries where freedom of the press is far from a given and exercised at great personal risk," Columbia President Lee C. Bollinger said.
Anderson has covered the Americas for three decades, profiling the late Venezuelan President Hugo Chavez and covering the 2010 Haiti earthquake. DeCesare's images have told the story of violence in Central America for years.
In Brazil, Konig has risked his life to expose human rights abuses, sex trafficking and corruption. Santos has shepherded stories that exposed illegal spying on Colombian journalists, judges and politicians.
The winners will receive medals and $5,000 each at a ceremony on Columbia's campus on Oct. 21. - AP