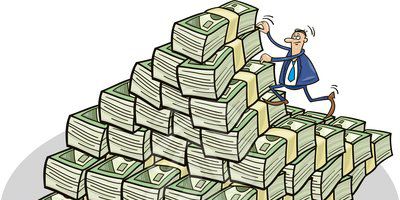 JournalismPakistan.com June 19, 2013 Z. B. Saigol

LAHORE: The CEO of a local TV channel recently declared in his most 'humble' voice to a group of salivating listeners hanging on to his every word: "I only get paid Rs1,200,000. Compare this with some of the program hosts who get Rs3,000,000 to Rs4,500,000. I guess I haven't done that well after all."

In perspective, most tea boys, camera assistants, receptionists, guards, make-up artists etc at news channels get paid less than Rs10,000 per month. In other words, it takes the collective salaries of 120 people or more from this lowly salary bracket to pay this one man, the CEO, who still believes he is not getting paid enough.

What this CEO so conveniently forgot to mention was the house rent, utility bills, car, travel and guest expenses such as dinners, lunches, receptions etc that get thrown in with his salary every month courtesy the company. He also forgot to mention the twice monthly foreign trips and dozen or so local flights he has to take to attend those 'very important' conferences, seminars and workshops he cannot miss.

Likewise, a banker, recently returned from London, summed it up very neatly. "When I came back I was thinking of a salary that might touch Rs100,000 or thereabouts," he confessed, "…but I was happily surprised when I was offered this top management job here for five times that amount. Now I find out that I have a lot authority to go with my job which makes it really cool."

All he got in London was £1100 if you get the drift.

On the other hand most bank employees get paid Rs7000 to Rs25000. It's not difficult to do the math to arrive at the conclusion that big companies make big payments to people with big job titles whereas the mundane run of the mill workers do all the hard work and usually get less than three percent of what the big guy does for giving orders, meeting people, sipping coffee or tea and coming to office in a fancy three-piece suit.

"It is a global phenomenon," says Dr. Kemal Bashir, an economist also recently returned from the United Kingdom. "For example take the top echelon managers etc at Google, Cisco, JP Morgan Chase, Exxon Mobile, Siemens, Pfizer etc. all of them get paid in the hundreds of thousands while there is unemployment right through Europe and the United States on a large scale. The salary of the CEO of any of these companies would pay the salaries of several hundred men in other fields of work."

In Pakistan too it is becoming more apparent that the rich are becoming richer and the poor are getting poorer. What is happening as a result is that the once large middle class is getting squeezed down the line and is slowly but surely becoming poorer by the day. Their salaries have not increased enough to meet the demands of recession and inflation. Their requirements remain the same.

In turn this has affected the way they function. The motivation to work is lacking and, therefore, productivity is lacking. Worst of all, the cash crunch (i.e. poor salaries) is having a huge negative impact – it is leading to increased corruption and social deterioration that is also compounded by lack of education.

"I do two jobs and still I don't earn enough to pay my house rent, my kids' school fees and do not have enough left to feed my family properly," asserts Asad who works as a computer technician in the day and as video editor with a television channel at night. I remember my father had one job, earned less and yet we lived a lot more comfortably. It makes me wonder…"

What he was trying to say was that he felt that he was getting a raw deal. He felt that, like so many other people, while he was struggling to keep his head above water there were hundreds of examples which showed that there were others who did not work hard, had no social input or contribution, but were making a lot more money at his expense.

"I was always made to believe that if I worked hard, the results would be beneficial and I would reap the rewards. But this is not the case," he added resignedly, "I see people with large houses, multiple cars…while, despite all I do I live in a rented house and have nothing more than an old motorbike. I see my boss who gets over Rs600,000 and yet I get only Rs9000. Why is there such a huge discrepancy? Do my skills have so little value?"

"There was a time when feudals and land owners were the ones with money, but now its politicians, industrialists, CEOs and other members of the top management of organizations that have managed to take advantage of the system which has been built around factors favoring them," says Ali Akbar, a financial expert based in Karachi. "If you know where the weak links are as well as the 'who', the 'what', the 'how' and the 'where'… then you are in business. The ordinary man, however, does not stand a chance."

"It is never good for a country when all the money is in a few hands," added Ali solemnly, before warning "What is even more frightening is that this situation could get worse because things are already beyond our control. The best indication of this is that people may have bank accounts but do they have enough saved to see them through a difficult time like unemployment?"

What is particularly worrying is the large numbers of younger Pakistanis who are just finishing from college or university and are on the verge of starting out in their professional lives only to discover that the job market has shrunk and so have the salaries. Instead of a few applicants per job there are now dozens applying for a job that eventually might go to the person who can pay the most for it or to an individual who knows someone who knows someone.

"I hoped to become an engineer and then suddenly jobs for engineers dried up, so I took courses in computer science, software, hardware etc. Now when I go to find a job in this line I discover there are 50 candidates in queue for the job already there. Since I don't know anyone who can get me in I get very depressed. I wonder if I will ever find a job," says Bilal Imam an unemployed youth who lives with his parents and three younger brothers in Islamabad's I-8 sector.

Pakistan's unemployment rate has more than doubled since 2003 from 7.80 percent to 18 percent. Alarmingly there was an 89.19 percent increase over the unemployment rate from last year when Pakistan ranked 143 out of 196 countries. More than 35 lakh people are currently unemployed in Pakistan and this is expected, according to experts, to get much worse. There is no talk of when it will get better.

Meanwhile, there is news that a certain billionaire is on the verge of pumping in millions into his latest project, a television channel. This would be a good opportunity for more jobs in a sector that has suddenly started to fall flat.