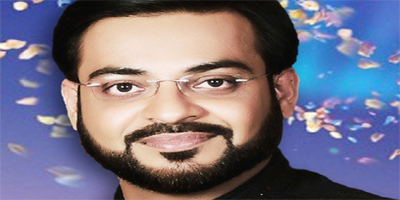 JournalismPakistan.com July 02, 2012 By A Woman

SAN JOSE, CA: Back in 2005 when Geo TV's Aalim Online host Dr. Amir Liaquat Hussain was the Minister of State of Religious Affairs in the Musharraf government, I chanced to come across this shameless individual at Dubai Airport and then again at Karachi Airport.

Let me tell you what he and his entourage said and did.

Dressed in an expensive sherwani and grinning like the proverbial Cheshire cat, the doctor came charging into the main terminal as if he was entering a boxing ring, waving vigorously and chatting with whoever caught his eye or fancy.

Then smoothly and efficiently, his handlers maneuvered him into the queue specifically designated for women and families. Here he continued to progress to the head of the sizeable waiting column of women and children until his thugs tried to push me out of the way.

"Minister sahib kay leeyay jagaa choraain. Aaagay say hatto (Make way for the minister. Move aside)," said one particularly obnoxious individual with a bristly moustache dressed in a chocolate safari suit.

This was just too much. Tired after being in the queue for the better part of an hour and having to take care of my daughter who was just two at the time, I was in no mood for such bullying tactics. I snapped.

"Oye... This is Dubai, not Pakistan. If this guy is a minister then he is a minister in Pakistan. Not here. And what is he doing in the women's and families' queue. Does he have no shame? Is he a woman?"

Shamelessly the doctor pretended not to hear a word. He mumbled something under his breath. His guards on the other hand looked on worriedly as I gestured to one of the on-duty shurtas (police officers) to come to my aid.

"Jab Pakistan poncho gay phir tum say baaat karein gay (We will speak to you when we get to Pakistan)," said one of the men. After that, very quickly the 'aalim' and his group melted away into the crowd. When I next saw them they were at the rear end of one of the general queues looking rather aggravated.

In the plane I did not see the so-called 'aalim' and neither did I see his buddies. However, as soon as I reached Karachi I began to regret tangling with his group in Dubai.

This overdressed show-off was greeted warmly by another group of men, two of whom were armed. There were policemen to escort him out of the airport. There were fans who garlanded him.

He was getting the kind of protocol I thought only presidents got.

Then just as I almost reached the immigration control desk, I suddenly realized he had stopped and was looking in my direction. He said something to the men and they all laughed. I almost fainted, recalling their threat at Dubai Airport.

But then he moved on, swept forward in the movement of his adoring fans and patrons.

I guess I was lucky just to be the recipient of some 'smart' remark from the state minister, some rude laughter, and nothing worse.

Earlier this year I saw the video in which he shamelessly says hurtful and mean things about a woman who had sought his religious advice for her troubles. He had callously laughed and joked with his fellow maulvi. I was disgusted.
A man once came to Prophet Muhammad (Peace Be Upon Him) and asked: "O Messenger of Allah, who is the person who has the greatest right on me with regards to kindness and attention?" He replied: "Your mother." "Then who?" The Prophet replied: "Your mother." "Then who?" He replied: "Your mother." "Then who?" He replied: "Your father."

Respect of women is a quintessential part of Islam. If this so-called expert on religion does not know this much than what is he an aalim of?

(This piece was sent in by a JournalismPakistan.com reader from the United States. She requested not to be identified)