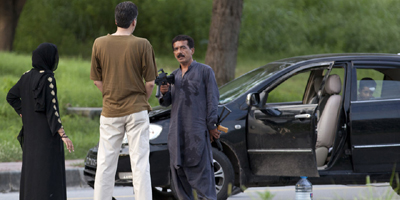 JournalismPakistan.com August 16, 2013 Z.B. Saigol

KARACHI: For five hours, or thereabouts, yesterday a single gunman held Islamabad hostage, including hundreds of thousands of television viewers who sat glued to their seats throughout the mind-boggling confrontation that wavered from bizarre to downright insulting.

I say bizarre because it was surreal a la Alice in Wonderland as the gunman's wife casually negotiated/mediated on his behalf and his two kids played on the grass in the nearby green belt even as he brazenly toted his weapons, and insulting because it was allowed to carry on for so long. There are a zillion questions to be asked about the incident.

First of all, how did this guy Sikander Whatshisname get into such a sensitive area of Islamabad brandishing such deadly automatic weapons – a Kalashnikov and a sub-machine gun – when there are police and security checkpoints at every ten yards of the city? Next, he almost made it to Constitution Avenue and this simply begs the question: How safe are the residents of Islamabad from real terrorists?

The man stopped his car on Jinnah Avenue and fired shots in the air. He then casually walked about even as police and hundreds of onlookers quickly gathered around. Nobody did anything. No attempt was made by the police to bring down this armed menace immediately. No attempt was made to keep the gathering crowd of onlookers away.

There was an amazingly casual air about the whole affair as the gunman quickly denounced the West, Nawaz Sharif's government and Pakistani society in general, declaring that there was no place for vulgarity and immorality and demanding that Islamic Law immediately be implemented in the whole country.

SSP Operations, Islamabad, Dr. Rizwan tried to reason with him but the man refused any and all efforts to listen to sense even though it was pointed out that he had placed his children in danger.

Eventually, the gunman was distracted by PPP leader Zamurad Khan who tried to disarm him, and was shot in the leg and stomach as police finally opened fire. It was said the police had orders to bring the gunman in alive. Two police officers were injured as he fired back.

The man was arrested and so was his publicity greedy wife. Reports say that Zamurad has now offered to adopt the gunman's children as both their parents will be going to jail. Unbelievable!!
And we know this all because….

For five straight hours every TV channel in the country showed nothing else. In a scramble to better their rating and outdoing each other the electronic media zeroed in on the venue of the incident and telecast live from there, every second of every minute. In between talk show hosts hastily found guests to discuss the enfolding drama.

Some media men talked to the gunman asking him why he was doing what he was doing, thereby giving him the opportunity to air his misplaced beliefs and reasons for taking matters into his own hands and how.

The gunman casually smoked, drank a beverage, strolled about with his guns, chatted with his kids in the back seat of the car, his wife frequently mediated on his behalf by cell phone and in person and it carried on and on.

The police stood by in droves and did nothing. The crowd became larger with every ticking minute. It could have been a music concert.

The media got more and more hysterical and dramatic. Big words were used. Cynicism and witty remarks flew thick and fast. And somewhere, in between, there were moments where one even detected sympathy for the gunman.

The viewers hung on to every minute of every development. The media continued to play it up.

Did they do right?

I think not.

It is my opinion that in their rush to push up their viewer ratings they would stoop to any level to inch ahead of each other no matter what the consequences or fallout of their actions.

Today, by dedicating five hours of coverage to this obviously disillusioned man they have also given license to other similar half-crazed or ideologically spoon-fed individuals to pursue and advocate their whims with the country looking on via TV news channels.

This man should have been thirty five seconds of local news… a voice over. Not even a report.
Now, God knows how many others like him will be looking for their five hours of fame on television.

Today, for sure, better sense again deserted Pakistan's news channels and those that run them. Let's see what it will be that will top this ridiculous event and the even more irresponsible news coverage.