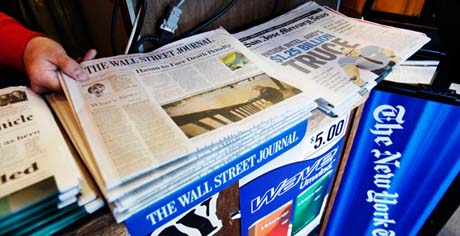 JournalismPakistan.com May 2, 2012
I was surprised to read on JournalismPakistan.com that yet another newspaper in Pakistan is in trouble. This comes as no surprise as newspapers all over the world are in trouble.

The writing was on the wall some years ago; those that didn't see it or refused to see it now have to face the stark reality that newspapers and, perhaps even mainstream media, might not have a future.

Alternative news media such as blogs, online papers/magazines and websites have taken over. Tweets and podcasts too weigh in heavily. Information is immediately available through 'selected services'.

This means if one is interested in US politics, especially now that the elections are coming up, getting updates through one's phone and email is no problem. The latest updates are a single click away. One does not have to wait till the next morning to know what is happening.

Furthermore, the information coming through is unhindered by 'editing' and 'political correctness'. It's upfront and raw. This is especially true of blogs and websites. Critics point out that such information is unfiltered, unreliable, irresponsible and lacking integrity.

True!

In some cases it is and in some it is not. Some of the best information coming through in recent times has been via blogs e.g. the accounts of the uprisings in the Middle East are a case in point. Many of the reports/accounts available at the time made captivating reading and listening. Mainstream media, somehow did not have the same impact and often had to rely on the author of blogs and citizen journalists to fortify their own reports.

The exact impact of communication technology on how the world perceives events through media will be known only some years down the line. For the time being, it is as obvious the nose on your face that mainstream media has not only lost its grip but is on an increasingly slippery slope.

Many newspapers have closed down. Others have downsized their staff drastically. The print media is in survival mode at the moment. Just how desperate they are can be gauged from their marketing and promotional deals. Just the other day I was told by one telephone marketing agent that I could get their newspaper four times a week for just eight dollars a month, Sunday editions included!

Television, in contrast remains relatively strong, but if one looks closely it too is losing its grip. There is a growing conviction that more often than not the real story gets buried in 'filtered', 'biased' and 'opinionated' reports. News channels swing from one extreme to the other. Worse still, most news and current affairs channels have lost that believability factor.

Many TV anchors and reporters are the butt of jokes for their overly dramatic and over their top antics. Often the line of questioning is simply ludicrous but still they will continue to push on in that direction even as the facts fly in the face of it.

Truth is often seriously compromised by ambition. Serious matters become trivial. Observations and remarks, especially in sensitive matters, are often off the mark or brazenly callous. Al this leaves a bitter taste in the mouth. The viewer is insulted and disgusted.

While alternative media continues to gain in popularity, the mainstream media continues its escalating slide to oblivion despite knowing what has to be done to survive. Yet no serious effort is forthcoming; a renaissance seems but a dream.