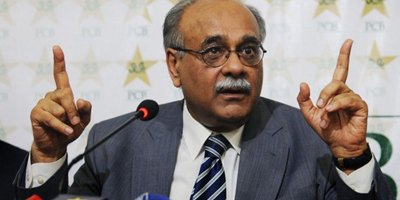 JournalismPakistan.com April 01, 2015
ISLAMABAD: Veteran journalist and analyst Najam Sethi will assume his duties as president of the International Cricket Council (ICC) next week.
He was scheduled to assume the charge in July this year after expiry of the term of Mustafa Kamal but the latter has resigned from his post amid controversy over the body disallowing him to award the trophy to the winning captain.
The president of the ICC is a ceremonial post that is granted to member countries of the council for one year on a rotation basis.
An official of the Pakistan Cricket Board told JournalismPakistan.com that generally it is common practice the world over that current chairman of the cricket board of a respective country is nominated as president of the ICC.
"But in Pakistan, the current chairman Shaharyar Khan preferred to withdraw in favour of Najam Sethi and the prime minister endorsed the latter's name for the position," he said.
A press release issued by the PCB said, "Mr Sethi is a renowned, international award-winning journalist who was given Pakistan 's highest civil award, Hilal-i-Pakistan two years ago. Last year he served as PCB chairman and helped fashion a new democratic constitution for the PCB, later voluntarily stepping aside to make way for the election of Shaharyar Khan."
Shakeel Khan, a spokesperson for the PCB, told JournalismPakistan.com that Sethi may not be able to help the PCB in restoration of international cricket in Pakistan during his stint at the ICC as the post is nothing more than a ceremonial one.
Sethi is the Editor-in-Chief of Friday Times and appears as an analyst in the program 'Apas ki Baat' on Geo News Television.