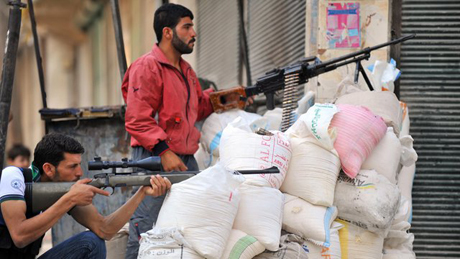 JournalismPakistan.com August 24, 2012
An American freelance journalist has been missing in Syria for more than a week, his most recent employers said Thursday, expressing concern for his safety amid fierce fighting there.
The Washington Post daily and the newspaper group McClatchy reported they had lost contact with 31-year-old Austin Tice, a reporter and photographer who had been in Syria covering the revolt against the Damascus regime.
The Post said Tice, a former officer in the US Marines, entered Syria from Turkey in May and, after initially traveling with rebel fighters, made his way to the capital Damascus this month to report on the fighting there.
"Family members and editors who have worked with Tice have not heard from him since then," the paper said. Post and McClatchy editors said they were concerned and "focused intensively" on bringing about Tice's safe return.
Before becoming a war correspondent in January, Tice served as a captain in the US Marines and was deployed on combat tours in Afghanistan and Iraq.
"We understand Austin's passion to report on the struggle in Syria and are proud of the work he is doing there," said a statement from Tice's parents, Marc and Debra, who live in Houston, Texas.
Media freedom watchdog Reporters without Borders (RSF) said they had been in contact with McClatchy for several days and shared the group's concern.
"Syria is one of the most dangerous place for journalists today," RSF said, adding that 10 journalists - five of them Syrian - had been killed since the war began and that 30 are detained by the Syrian government.
Two more journalists - Palestinian reporter Bashar Fahmi and Turkish cameraman Cuneyt Unal of the US government-funded television network Al-Hurra - went missing in the Syrian city of Aleppo on August 20.
"It is thought they are being held by the security forces or a pro-government group," RSF said.
For 17 months Syria has been in the grip of fierce fighting between Bashar al-Assad's regime and a popular revolt. The Syrian government issues few press visas and many correspondents have crossed the border independently. - AFP