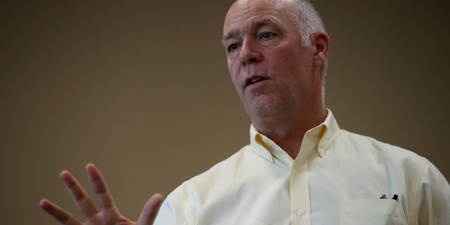 JournalismPakistan.com May 25, 2017


MISSOULA, Mont. - A Montana Republican running for the US Congress has been charged with assaulting a reporter hours before polls were to open on Thursday for a special election that could test US President Donald Trump's political clout.
The incident on Wednesday threatened to roil a tightening race in the Republican-leaning state, where a Democratic political novice aimed to pull off a victory in a contest seen as a bellwether for next year's US congressional elections.
It was not clear what affect the assault charge against Republican technology executive Greg Gianforte (pictured) would have on the Montana race, where 37 percent of the 699,207 registered voters had already submitted absentee ballots, according to state election officials.
Gianforte was charged with misdemeanor assault after a political correspondent for the U.S. edition of the Guardian newspaper said the candidate had "body-slammed" him during a campaign event in Bozeman.
Ben Jacobs was trying to ask Gianforte about healthcare, according to an audio tape captured by the British newspaper's correspondent. He was taken to the hospital and later released, media reports said.
Fox News Channel reporter Alicia Acuna, who was preparing to interview Gianforte at the time, said the candidate "grabbed Jacobs by the neck with both hands and slammed him to the ground."
Acuna, her field producer, and photographer then "watched in disbelief as Gianforte began punching the reporter, she wrote on the Fox News website.
"I'm sick and tired of you guys," Gianforte can be heard saying in the audio tape. "The last guy who came here did the same thing. Get the hell out of here."- Reuters