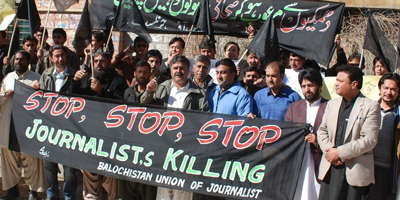 JournalismPakistan.com November 06, 2014
A conference in Strasbourg on November 4 signaled a new period for the UN Plan of Action on the Safety of Journalists and the Issue of Impunity. The 3rd UN Inter-Agency meeting on the Action Plan involved over 100 participants, including six UN organizations.

Co-hosted by UNESCO, the Council of Europe and the Office of the High Commissioner for Human Rights, the event also included diplomats from Philippines, Pakistan, Austria, Honduras and Azerbaijan. A message was relayed by Iraq's ambassador to UNESCO.

The sentiment of the meeting was expressed by African Union Commission's Habiba Mejri-Cheikh, who stated that "an attack on any one journalist must be pursued as an attack on all of us".

Civil society groups, media and academics also took part, alongside representatives of the International Criminal Court and the Inter-American Court of Human Rights, and Dunja Mijatovic, rapporteur for freedom of the media at the OSCE.

The participants shared information on how, over 18 months, the UN Plan had stimulated new attention to journalists' safety within the UN system, as well as within a range of countries including Pakistan, Nigeria, Tunisia, South Sudan, Nepal and Mexico.

Suggestions were voiced about strengthening work at the global level, and the need to localize international standards and processes at country level.

Calls were made to broaden participation in the Plan, by involving more UN bodies, courts, media owners and young people.

Emphasis was put on strengthening political will so that governments were sensitized to take the necessary steps and allocate budgets in order to ensure protection for journalists and an end to impunity for crimes against freedom of expression.

Another theme discussed in the meeting was the need for greater sharing of information and awareness-raising about the UN Plan and why societies needed to ensure safe conditions for journalism to flourish.

A statement from 23 civil society and professional groups reaffirmed support for the UN Plan, and recommended "a stronger strategic focus on engaging all stakeholders at domestic levels".

A draft Implementation Review Report prepared for the conference will now be revised and circulated for comment. - UNESCO