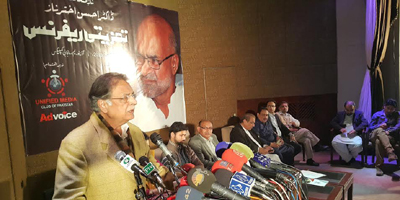 JournalismPakistan.com February 20, 2016


LAHORE - A well-attended condolence reference for late Dr Ahsan Akhtar Naz, former Director, Institute of Communication Studies (ICS), Punjab University was held Saturday under the auspices of Unified Media Club (UMC) at Punjabi Complex, Qaddafi Stadium.
The reference was attended by a large number of working journalists, politicians, students of mass communication, civil society representatives, academics and professionals belonging to different fields of life. Federal Minister for Information Senator Pervez Rasheed was the chief guest.
The overall atmosphere at the venue turned emotional as the speakers recalled the pleasant memories of times spent with Dr Naz and talked about his virtues and charming personality. There was a consensus that he was the one who transformed the ICS into a modern learning facility and helped develop strong linkages between the leading media houses and students of mass communication. It was during his tenure that leading working journalists offered their services, almost for free, and taught students about the dynamics and challenges of practical journalism. He was highly respected at media houses and his reference letters would help students find placement at leading newspapers and TV channels.

UMC President Muhammad Hassan inaugurated and moderated the session. He said though Dr Naz was not there among them his memories and teachings would always be there and show them the right direction in their personal and professional lives. Hassan described Dr Naz as a person who cared about his students and gave them utmost respect. The fact that an extraordinarily large number of people had turned up at the time of his funeral proved that he was loved to the core by his friends, colleagues, acquaintances and relatives, he added.

Journalist and development sector expert Salam Abid praised Dr Naz for his professionalism and commitment to journalism. He said he was a learned man and never missed any opportunity to enhance his knowledge. He would often invite leading media professionals of the country to visit his department and share their knowledge and experiences with the students. "He had a wealth of knowledge but he would not portray himself to be an intellectual. Instead, he would listen to what you said like a keen student." Salman said Dr Naz was a down-to-earth person who everybody wanted to meet and spend time with.

Leading journalist Mujeeb-ur-Rehman Shami expressed that the death of Dr Naz had created a void that could not be filled. His students, he said, were working on top positions in different media houses and it was their duty to hold similar events and pay homage to this wonderful human being. He praised UMC for holding the reference and giving an opportunity to so many people to talk about Dr Naz and listen to the nice words spoken about him.
Senior journalist Salman Ghani demanded of the government to announce Pride of Performance award for Dr Naz whose services in the field of journalism education were unmatchable.
Lahore Press Club (LPC) President Shahbaz Mian and Pakistan Federal Union of Journalists (PFUJ) President Rana Azeem announced naming of a corner in the LPC and an annual journalism award after him.
LPC Vice President Abdul Majeed Sajid made a demand in the presence of the chief guest that an inquiry shall be conducted to hold those people responsible who launched baseless smear campaign against Dr Naz and caused mental anguish to him. He said such elements were getting state patronisation despite their evil nature. It was time they were thrown out of Punjab University and new leadership be sworn in, he stressed.

Dr Masood Akhtar, younger brother of Dr Naz, and journalist Bilal Ahsan, son of Dr Naz, said they had suffered a huge shock and their life would never be like it was before. They said they had lost a loving elder who would go to any extent to help them out and get their problems resolved. They thanked the participants for the love and respect they had shown for Dr Naz and urged them to always remember him in their prayers.

Federal Minister for Information Senator Pervez Rasheed remembered Dr Naz as a legendary professional who had done remarkable work on journalistic ethics. He had written books on this subject that were being taught in different countries of the world. He said he would play his due role in getting national award for late Dr Naz who was a role model for the teachers of the country. He also urged the media community to follow the teachings of Dr Naz and adhere to journalistic ethics that he would talk about in his lectures, speeches and writings.

The participants included Faisal bin Naseer (UMC General Secretary), Haroon Akram Gill (UMC Joint Secretary), Shahzada Irfan Ahmed (The News), Sajid Mir (anchor and columnist), Dr Sughra Sadaf (columnist and poet) and others.
Related posts from JournalismPakistan.com Archives:
Ex-director at Punjab Varsity's Institute of Communication Studies Dr. Naz dies
Fight between journalists and Punjab University's ICS intensifies