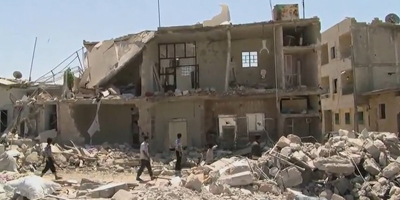 JournalismPakistan.com March 30, 2014
BEIRUT: Two Spanish journalists were freed after being held captive for six months in Syria by a rogue al-Qaida group, the newspaper for which one of the men worked said Sunday.
With the release of reporter Javier Espinosa and photographer Ricardo Garcia Vilanova, there are at least another nine foreign correspondents missing in Syria, and 10 Syrian reporters. It is believed that many more Syrians who work as media activists are also in captivity.
Syria is the most dangerous conflict in the world for reporters, partially because of the risk of kidnapping by rebels or pro-government forces.
Espinosa and Vilanova were held since September by the breakaway group, the Islamic State in Iraq and the Levant, who detained them at a checkpoint in the town of Tal Abyad in the eastern province of Raqqa, where the militants dominate. The two were trying to leave Syria at the time.
Espinosa made contact with the newspaper El Mundo late Saturday evening from Turkey, where the two were in the care of the Turkish military, the newspaper said. They are expected to arrive in Spain on Sunday.
The newspaper provided no further details on their release. It was not clear whether the two were freed by their captors or escaped.
Espinosa was widely respected as a brave correspondent. He was wounded in February 2012 in a shelling barrage by Syrian government forces on the central city of Homs that killed a French photojournalist, Remi Ochlik and an American reporter working for a British newspaper, Marie Colvin. His life was saved by a wall that blocked the worst of the shrapnel.
Following news of Espinosa's release, his partner, Monica Garcia Prieto, also a Spanish reporter, sent a Twitter message early Sunday describing her feelings thusly:
"Pure happiness." - AP