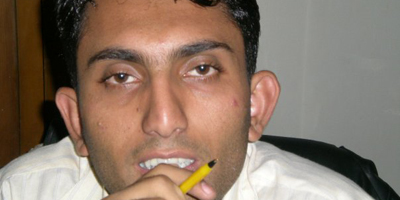 JournalismPakistan.com January 04, 2013
Two Pakistani journalists Malik Siraj Akbar (picture) and Zubair Torwali have been honored by Human Rights Watch for their commitment to free expression and their courage in the face of persecution. The awardees each received 2012 Hellman/Hammett grants of up to $10,000 to assist the writers who may have trouble finding paid work or who face legal or medical expenses, the Pakistan Press Foundation reported.
The PPF quoting the Human Rights Watch website said the grants are named for the American playwright Lillian Hellman and her longtime companion, the novelist Dashiell Hammett. Both were questioned by US congressional committees about their political beliefs and affiliations during the aggressive anti-communist investigations inspired by Sen. Joseph McCarthy in the 1950s. Hellman suffered professionally and had trouble finding work. Hammett spent time in prison.
The awardee Siraj Akbar's work has appeared in prominent publications, including Dawn and the Daily Times and The Hindu andThe Times of India. His online newspaper Baloch Hal was blocked by Pakistani authorities due to its coverage of human rights violations in Balochistan by Pakistan's military and security forces.
Following numerous arrests and apparent executions of Baloch journalists, activists, and intellectuals, and death threats to himself, Malik fled Pakistan for the US and was granted political asylum. He lives in Washington DC, where he maintains the Baloch Halwebsite and writes as a freelance journalist. In 2011, Malik wrote the book, The Redefined Dimensions of the Baloch Nationalist Movement.
Zubair Torwali, the other journalist honored is from the Swat valley in Pakistan. As a college teacher in Islamabad, he began writing op-ed articles for daily newspapers in Pakistan. He first wrote about the nearly-extinct Torwali language, and later began to criticize militancy in Swat and abuses committed by both the Taliban and Pakistani government forces.
He was targeted by the Taliban for his writing, faced numerous death threats from them and from the Pakistani military, and had to flee Swat for safer locations within Pakistan.
Zubair continues to write op-ed articles for Pakistani daily newspapers, despite having restricted movement and a low profile because of the threats he and his family continue to face.