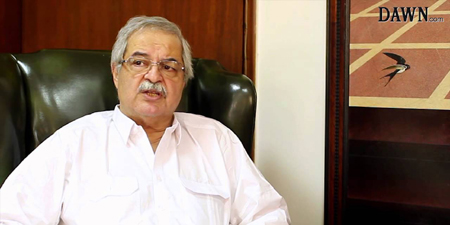 JournalismPakistan.com November 07, 2016


ISLAMABAD – As Dawn marked 20 years of publishing from Lahore Monday, its CEO Hameed Haroon took the opportunity to point out truth-telling was an old-fashioned habit at the paper.
"In the 70-year-old history of this newspaper, we have endeavored to stick by this old-fashioned habit and have sometimes shouldered the force of blows aimed against us – by the institutions of state and political parties," he wrote.
In a lengthy piece on the front page of a heavy supplement, Mr Haroon added: "We have endeavored to continue telling the truth in a relatively dignified way and by whatever legitimate means possible."
The column headlined 'Truth telling: An old fashioned habit' the CEO said that "to persist with an old habit implies the need for a perma­nent and historically flexible institutional arrangement. At Dawn, like anywhere else, such an arrangement must be fired in the continuity of tradition. Additionally, we need to demonstrate a cast-iron commitment to continued values."
He then went on to explain what that institutional arrangement at Dawn is. "Essentially, when our founder, Mr Mohammad Ali Jinnah, established Dawn at Karachi in 1947, we created a dualism or a seperateness at Dawn between editorial and management decision-making.
"In brief, professional editors would be appointed on the basis of their journalistic integrity, their competence and above all for their reasonableness and impartiality in the work of news-gathering and for their ability to generate fair comment. Once selected however the professional editors at Dawn (and at all her sister publications) must themselves take all operational decisions which directly impact on the editorial side of the news-gathering process."
He wrote that management staffers within the corporate entity cannot address edito­rial issues and thus may not influence the content of the news in any manner whatsoever. "Contentious issues if any are to be sorted out in a consultative process between the editor of Dawn and the chief executive officer/publisher who stands at the apex of management – and this is after the publication of any news story – not prior to publication."
Mr Haroon said any information that the management wished to convey which will usually, though not invariably, be restricted to general policy matters, was transmitted and solved as a result of a dialogue between the editor and the chief executive officer/publisher. "No other member of management except the chairman of the Board of Directors at Dawn would par­ticipate in this two-way dialogue, nor would any mere share­ holder or part-owner of the corporation, or indeed of the publishing family outside the corporation, would be granted access to or influence this dialogue. This implies a virtual sealing off between the editorial and management deci­sion-making structures at Dawn.
The CEO also touched upon the recent controversy over a story about a national security meeting that his paper published. The news sparked a rift between the government and the military.
"Today, when state institutions appear to be reprimanding Dawn for the sensibility of its editorial practice, we would do well to remember that governments and state institutions in Pakistan frequently exhibit a response that is not carefully thought out, and frequently misplaced. No one at Dawn can lay claim to perfect behavior."
Mr Haroon then pointed to an editorial in Dawn that remarked: "While any media organization can commit an error of judgment (and Dawn is no exception) the paper believes it handled the story in a professional manner and carried it only after verification from multiple sources... In accordance with the principles of fair and balanced journalism, for which Dawn is respected not only in Pakistan but also internationally, it twice carried the denials issued by the Prime Minister's office..."
"Yes, I believe the Dawn editor when he says the story was verified and counter-verified as per our stated principles. Yes, the denials of the Prime Minister's office were also duly car­ried. This government, like any government, should proceed to sort out the matter with other state institutions, as indeed any democratic government should in a fair, free and trans­parent way. And, yes, we need always to be vigilant with respect to verification procedures, keep the news factually balanced and understand the demands of rationalized national security restraints which are attached to this kind of reportage. But, we at Dawn will, to quote the same editorial, "continue to defend ourselves robustly against any allegation of vested interest, false reporting or violation of national secu­rity.
"That, unfortunately, is one of the short-term disadvan­tages arising from our old-fashioned habit of truth-telling, Mr Haroon concluded.