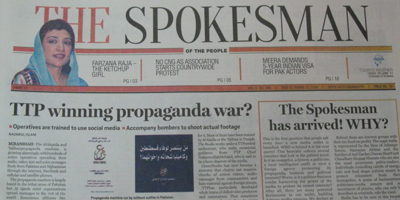 JournalismPakistan.com February 03, 2013
ISLAMABAD: The Spokesman hit the newsstands Sunday announcing it had arrived to bring about a positive change in journalism.
The 12-page paper has Huma Ali as the chief editor with Atif Mateen the executive editor. Saeed Minhas is the resident editor. The newspaper will be operating out of its offices in Aabpara Market.
The front page content in the maiden edition includes the newspaper's introduction explaining why it had arrived; a top story on Tehrik-e-Taliban Pakistan's propaganda war and another one on the Capital Development Authority (CDA) whose men the paper claims allegedly helped property tycoon Malik Riaz in beating the civic authority in a race for building housing societies.
There's some real interesting content on the inside pages with senior journalist Amir Mateen writing about 'The ketchup girl' – Farzana Raja in his column 'Politically Incorrect'.
Another piece by Neetam Rima headlined 'Best kept secret of man from 'Chakri' – reveals that PML (N)'s Chaudhary Nisar Ali Khan wears not one but three separate wigs he changes every 15 days.
The paper's editorial 'Breaking the silence' is about the danger of Pakistan media 'drowning to death in the hollow shrieks that signify nothing."
It says "The Spokesman is an initiative of independent working journalists with a passion to reclaim their profession from the clutches of unethical profiteers, who have given it, and us, a bad name."
Appearing on the op-ed pages are journalists Muhammad Malick and Fahd Hussain, both writing about the media. Other contributions are from Anisa Mustafa, Samina Choonara and Sarmad Sehbai.