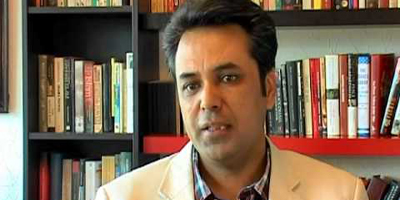 JournalismPakistan.com February 02, 2015
ISLAMABAD: Senior journalist and television anchor Syed Talat Hussain reconnected with The News Monday as he resumed writing for the paper where he was once the Resident Editor.
Talat last week joined Geo News Television as a senior anchorperson.
In his article, "National agenda matters," he emphasizes on formulation of a national agenda by reconsidering the country's geographical position and its borders to prosper in the region.
He also recounts his association with The News as he was one of the pioneer team members of the paper. "The first copy of The News carried some of my fingerprints too. My task was to proofread its launch editorial, 'Journey of a thousand dreams," he wrote in his article.
Hussain also advised media magnates to remain in limits and refrain from becoming parties or taking sides in conflict of different political parties. "The media and its movers and shakers have to realize that they are not and cannot be bigger than the state ....... they can and should shape the national agenda through information dissemination, not by playing the kingmaker," he said.
He also urged the government and state institutions to engage fairly with the media rather than trying to use it as a tool for their ulterior motives.
"The friend and foe distinction is a concept for actual conflicts. It is a poor strategy to engage with the national force that the media has become," he said.
Hussain would soon start hosting his current affairs program "Naya Pakistan" on Geo News.