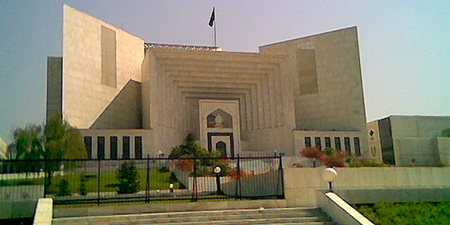 JournalismPakistan.com November 20, 2016


ISLAMABAD – The Supreme Court has issued a contempt notice to Din TV for airing news about an alleged meeting between Justice Amir Hani Muslim and Senator Nehal Hashmi over the Panama leaks case pending before the court.
In a press release, the Supreme Court contradicted and condemned the content of the news which was telecast on November 18. The court fixed November 28 as the date for hearing.
"It is clarified that the news item is totally false, baseless, concocted, stage managed and figment of the mind of the reporter," the release said.
It said that Chief Justice Anwar Zaheer Jamali had taken strong notice of the matter. The notice was taken following a Registrar's note based on transcript and CD of news package.
The note said the news channel had maliciously tried to malign the judge and brought on media something which never happened.
The release said the channel had deliberately tried to create sensationalism by claiming the news was exclusive and by doing so had created suspicion in the minds of general public about an issue of national importance which is subjudice before the Supreme Court.
Image courtesy: marvisirmed.com