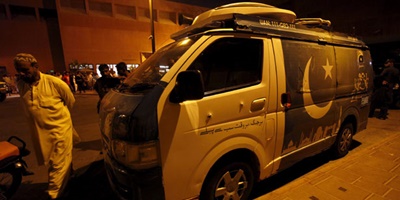 JournalismPakistan.com September 11, 2015


ISLAMABAD: Daily Dawn Friday said the state has erected itself a pantheon of shame through its refusal to pursue cases of journalists' killing with vigor and alacrity.

In an editorial captioned 'Killing of media workers' the paper said the attacks on professionals associated with the media over the past few days in Karachi and Peshawar are the most recent tragic additions to the list of journalists and other media workers who have been harmed or killed over the years in Pakistan.

On Tuesday Abdul Azam, a journalist working for Pakistan Television, was shot thrice in Peshawar. He remains hospitalized. The same day gunmen in Karachi opened fire on a Geo News Television van, killing technician Arshad Ali Jaffery and injuring a driver while on Wednesday unidentified assailants gunned down senior journalist Aftab Alam, also in Karachi.

The editorial said that these incidents underscore the impunity with which media workers are targeted in the country, by a variety of actors.

"Where shadowy elements within the state have not escaped being accused of using violence against journalists – the case of the slain Saleem Shahzad remains unresolved – other groups, from separatist elements in Balochistan to militants in the northwest, have often enough displayed their willingness to literally shoot the messenger," the paper said.

The paper pointed out that to date, the only media person's murder that comes to mind as having been resolved is that of Wali Khan Babar. "Media organizations, too, appear willing to sacrifice a few pawns rather than cooperate and come up with joint strategies to protect their workers."

In conclusion, the editorial said intimidatory tactics continue against Pakistan's media workers, who, it seems, have nowhere to turn.

Photo courtesy: thenews.com.pk