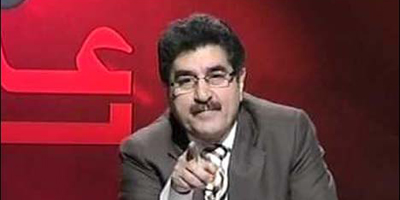 JournalismPakistan.com May 06, 2014
ISLAMABAD: A statement of solidarity issued by prominent media personalities pleading restraint and forging unity against threats to and attacks upon journalists in Pakistan is continuing to receive endorsements.

The number of journalists, columnists and others has increased from 64 to 72. Notable among the new endorsements are Iftikhar Ahmad (pictured), Director Special Projects, Geo Investigates and Election Cell, Geo News, and Hasan Zaidi, filmmaker and media analyst.

Iftikhar, known for his abrasive style, has been in the limelight for challenging Imran Khan, chief of Pakistan Tehreek-e-Insaf, over allegations against the channel.
In a column for the International New York Times, Zaidi opposed the muzzling of Pakistani media. "Did Geo make poor editorial decisions? Perhaps. Could it be sued for defamation for airing specific accusations, even by distressed family members, without proof? Possibly. Is the military's reaction a vast overkill? Most definitely," Zaidi summed up the controversy.

The other endorsements come from Adeel Pathan, Pakistan Coalition for Ethical Journalism (PCEJ); Agha Iqrar Haroon, Special Correspondent Dispatch News Desk, Irfan Haider, multimedia journalist at Dawn.com, Wahab Tariq Butt, Bureau Chief PTV News HK, and Zia Ur Rehman, journalist at The Friday Times.

The statement attempts to convey a message of defiance against closing down "any television or radio channel or newspaper" and urges media owners to "rise above their corporate interests and rivalries and work together against threats to and attacks upon journalists in Pakistan."

There is also a vow to stand united and avoid the pitfalls of division. "The shameful divisions in the Pakistani media are not only making journalists more vulnerable to attack and weakening our fight for justice, truth and democracy but also making us a spectacle for the world to see."