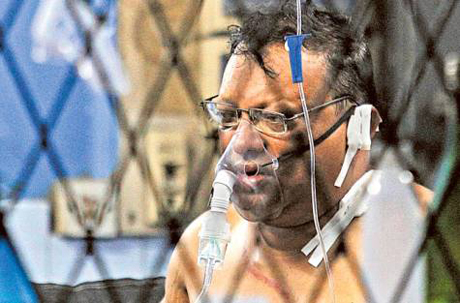 JournalismPakistan.com February 17, 2013
COLOMBO: Gunmen shot and wounded a journalist near Sri Lanka's capital Colombo, police said on Saturday, the latest in a string of attacks against media in the country.
Faraz Shauketaly, 54, a reporter with the privately owned Sunday Leader, whose editor was shot dead in 2009, was rushed to hospital for surgery following the midnight attack at his home, according to colleagues.
"Investigations are underway," police said in a statement, without elaborating.

At least three gunmen stormed into the reporter's house in the tourist resort area of Mount Lavinia, a suburb of Colombo, and opened fire, a colleague said.

Doctors were operating to remove a bullet from the neck of Shauketaly, who holds dual Sri Lankan and British nationality, his editor, Shakuntala Perera, told AFP. "We are told his condition is stable but he is still in intensive care," she said adding Shauketaly had written a series of articles on alleged corruption in the energy sector in recent months.

"We believe the attack was due to his journalistic work," she said, adding the reporter knew he was under threat and had feared for his safety. A local media rights group, the Free Media Movement, said the attack underscored the dangerous working climate for journalists in Sri Lanka.

"The government has created conditions to expose media personnel to this type of attack because the perpetrators know they will never be brought to justice," the group's secretary Sunil Jayasekera told AFP.

He noted not a single person had been prosecuted for the killing of 17 journalists and media workers in Sri Lanka in the past decade and abductions and disappearances remained unsolved. "We urge the authorities to investigate this shooting and bring the attackers to justice," Jayasekera said. "If the government is serious about allowing media freedom, they must show their goodwill by ensuring a successful investigation. "As long as a culture of impunity persists, there will be no press freedom."

Presidential spokesman Mohan Samaranayake said President Mahinda Rajapakse had ordered police to carry out a thorough investigation.

Media rights groups accuse the government of trying to silence dissenting voices.

In 2009, the editor of the Sunday Leader, Lasantha Wickrematunge, was shot dead near his office. He had been a fierce government critic. Attacks against journalists and news outlets have continued despite the end of the decades-long war between the military and Tamil separatist rebels in 2009.
There has also been a string of attacks against the main Tamil newspaper in the island's north with employees beaten up. Sri Lanka lifted a state of emergency in 2011, but media rights groups say journalists have been forced to self-censor their work due to fear of attacks.

The investigative Sunday Leader until mid-2012 had been strongly anti-government and regularly lampooned politicians.

But the newspaper was purchased by a businessman who is seen as staunchly in favour of Rajapakse's administration.

In September, the newspaper's new owner dismissed editor at the time, Frederica Jansz, who replaced Wickrematunge. - AFP