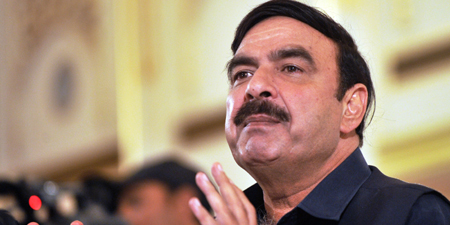 JournalismPakistan.com September 25, 2016


ISLAMABAD – Sheikh Rasheed Ahmad, chief of Awami Muslim League and a former information minister said Sunday merit was ignored in appointing Absar Alam as chairman of Pakistan Electronic Media Regulatory Authority.
He was speaking in Arshad Sharif's program Powerplay on ARY News. Asked if PEMRA was working independently, Rasheed said PML-N's only consideration in appointing people in key positions was loyalty. "Absar Alam did not qualify for the position of chairman but he was appointed for being 'loyal' while ignoring several qualified people. Conditions were changed to bring him in."
The program host then asked him if PEMRA was being used by the government, he responded: "120 per cent…, Absar Alam is a personal servant of Prime Minister Nawaz Sharif. "
Absar was named PEMRA chairman in November last year.
Related post from JournalismPakistan.com Archives:
Absar Alam formally appointed PEMRA chairman