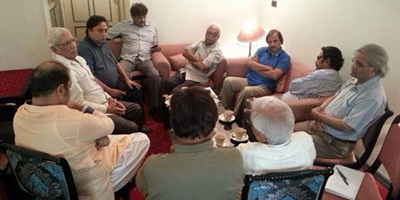 JournalismPakistan.com July 13, 2014
ISLAMABAD : The three factions of Pakistan Federal Union of Journalists have unanimously agreed to unite, a move likely to be widely welcomed.
The decision came at a meeting of a reunification committee Saturday which was also attended by leaders of the respective factions - Afzal Butt, Pervez Shaukat and Idrees Bakhtiar.
The leaders signed a memorandum of understanding, agreeing to unify the three factions.
The reunification committee comprises senior journalists M. Ziauddin, I. A. Rehman, Nasir Zaidi, Khawar Naeem Hashmi and Idrees Bakhtair.
According to Dawn, the PFUJ broke up following the imposition of martial law by Gen Zia in 1977 after one group of right wing journalists parted ways with the mainstream and went on to form a splinter group known as PFUJ-Dastoor.
The PFUJ-Barna faced a setback last year when two groups, one led by Afzal Butt and the other by Pervez Shaukat, went their separate ways after disputed elections.
However, after a separation lasting 36 years, two main factions of the PFUJ have decided to form a unified platform for the journalists.
The meeting was attended, among others, by senior journalists Farooq Faisal Khan, Khursheed Abbasi, Mazhar Abbas, Arshad Ansari, Shafiq Awan and Nisar Abbas. Senior members of the PFUJ, Pervaiz Shaukat, Rana Azeem and Amin Yusuf, were also consulted on phone.
Before any move, the matter will be taken to the executive council of each faction for final approval by Aug 25. The reunification committee will meet on Aug 30 to announce a final decision.
Photo courtesy: Farouk Muhammad