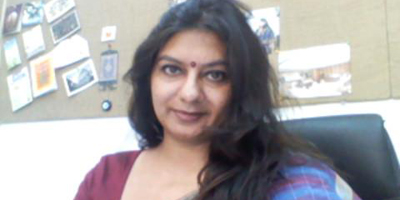 JournalismPakistan.com June 10, 2016


ISLAMABAD - Rights activist Marvi Sirmed said Friday she was abused by JUIF leader Hafiz Hamdullah during the recording of a program on News One Television.
Terming the incident that happened during the recording of the program '10pm with Nadia Mirza' as a 'very traumatic experience', Sirmed said Hamdullah got angry over a comment made by Barrister Masroor.
"When my turn came, I started my comment by saying 'I agree with Masroor Sahib to the extent that....' and here Hamdullah cut me and went on and on with his arrogance and rudeness," she said on her Facebook page.
The situation turned worse when Sirmed responded to Hamdullah in 'almost the same coin and he began abusing her and called her a 'whore' and went on to say "Tumhaari shalwaar utaar dooN ga aur tumhaari maaN ki bhi".
He also reportedly tried to throw punches at the activist but PTI leader Fayazul Hassan Chauhan, also a guest on the show, held him back. Hamdullah was later taken away by NewsOne security personnel.
Sirmed said "this religious merchant was fasting while he did all this."
The incident came days after Defense Minister Khawaja Asif body shamed PTI leader Shireen Mazari in the National Assembly, saying "someone make this tractor trolley keep quiet."
"It will be better if you first transform your masculine voice into a more feminine one," was his other uncivilized remark targeting Mazari.