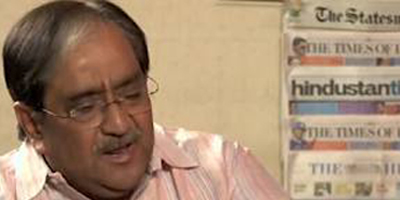 JournalismPakistan.com April 28, 2014
ISLAMABAD: The regional head of South Asian Free Media Association (SAFMA) Vinod Sharma is "immensely pained and outraged" over the Express Media Group's attempt to paint him as a "handler" of senior Pakistan journalist Imtiaz Alam, who quit the group last week.
The southasianmedia.net quoted Sharma as saying he has known Executive Editor of The Express Tribune for many years who had preceded him as SAFMA president. According to the website, Sharma sent the following letter to the Editor of The Express Tribune on April 24:

"This is apropos an article published in your newspaper on April 24, 2014 as a riposte to the resignation letter of Mr Imtiaz Alam, Secretary General, South Asia Free Media Association (SAFMA).

Let me at the very outset make it clear that Mr Alam is a dear friend of mine. He is like a brother to me. I am also very proud of my association with him in SAFMA, of which I am currently the regional president.

Making joint efforts across South Asia to safeguard freedom of speech and the Press is an integral part of SAFMA's activities. I haven't spoken to Mr Alam about his resignation. But it takes no rocket science to assume that he copied me his resignation in my capacity as SAFMA president. His action made eminent sense also because he was in India earlier this month and had done a program with me and other Indian journalists for Express TV on the Indian elections.

In this backdrop, I am immensely pained and outraged by The Express Media Group's bid to paint me as a "handler" of Mr Alam.

What's the insinuation here, Sir? Is it fair journalism to resort to slander to score brownie points in an internal media discourse in Pakistan- more so when the Editor of your newspaper, Mr Ziauddin has known me for many years and had preceded me as president of SAFMA?

I'd keep my rejoinder civil and not resort to scurrilous suggestions of the kind you have hurled at me as a journalist. I hold Mr Ziauddin in high esteem and expect the newspaper he edits to be as much deferential.

People who advocate good relations between India and Pakistan have been under consistent attack by elements having a vested interest in sustaining hostility. I have often been accused in my country of being soft on Pakistan (sometimes even of being on the ISI payroll) just as Imtiaz has been accused by you and others of your ilk of being soft on India (and being on the RAW payroll).

The only difference between Imtiaz, Hamid Mir or Raza Rumi on your side and people like me on our side is that no one is gunning for my life in India or threatening me and my family.

It is extremely distressing that your newspaper had chosen to contribute to such retrograde name calling. Imtiaz's reasons for his resignation have been clearly stated in his letter. Instead of rebutting him in a measured and mature manner, you felt the need to burnish your 'patriotic' credentials by hurling calumny on others.

The impression I have is that the resignation letter was marked to people in the media industry as a sort of press release. Not just the Jang/Geo group but other Pakistani newspapers also carried the details of his resignation.

As for the Indian media having a field day, you fail to appreciate the nature of the beast that is Media across the world. Just as the Pakistani media, including the Express group, carried stories about the Tehelka magazine, Indian newspapers couldn't have ignored the attempt to kill a prominent journalist of Pakistan.

Is it your case that the Indian media should not have covered the Hamid Mir story? And yes, because there were reports of threats to him from state actors, that angle was going to receive the attention it got.

I expect you to publish my letter in full to salvage your newspaper's credibility."
See The Express Tribune's April 24 report here.