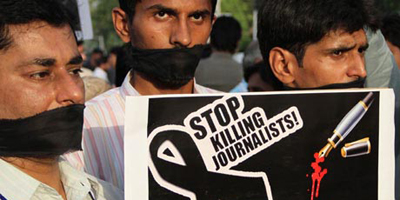 JournalismPakistan.com October 30, 2012
As the United Nations Human Rights Council prepared for its Universal Periodic Review of Pakistan, Reporters Without Borders (RSF) expressed alarm over growing threats to journalists' lives and safety in many regions of the country.
The free press organization, which has official consultative status with the UN, had recommended as recently as April a series of measures designed to protect journalists in Pakistan.
"A mere six months after our recommendations, media workers face even greater danger," Reporters Without Borders said on the eve of the 30 October review. "The number of journalists killed continues to increase, and most of the investigations opened into these murders remain inconclusive, contributing to an intolerable level of impunity."
The organization demanded that the Human Rights Council put Pakistani authorities on notice that journalists must be protected from the daily threat of violence from armed groups.
Eight journalists have been murdered in Pakistan since last January: Abdul Haq Baluch, Abdul Qadir Hajiazi, Abdul Razzak Gul, Tariq Kamal, Aurengzeb Tunio, Murtaaza Razvi, Syed Saleem Shahzad and Mukarram Khan Aatif.
Moreover, media workers face a mounting number of threats. Most of these come from armed Taliban and Baloch separatist groups, or are tied to government intelligence services.