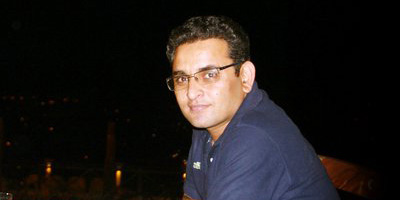 JournalismPakistan.com May 30, 2012
ISLAMABAD: About 70 journalists gathered in front of Geo offices in Islamabad Tuesday to protest the recent sackings by the television channel and to press media houses to implement the 7th Wage Board Award.

The protest was organized by the Rawalpindi-Islamabad Union of Journalists (RIUJ) and its president Waqar Satti took a swipe at television anchors who opted to stay away.

Satti said when the anchors ran into problems in the past the RIUJ took to the streets to support them. "In this light it is a pity they are not standing by us now."

Pervez Shaukat, President of the Pakistan Federal Union of Journalists (PFUJ) did not show up at the protest while Bilal Dar, Secretary General of RIUJ, made only a brief late appearance. Many of those sacked were not to be seen.

Satti told JournalismPakistan.com Wednesday that Geo TV was happily paying film actor Shan, who now hosts the program Geo Shan Say, Rs4 million a month. "I am sure the monthly salaries of staff that Geo has sacked would not be more than Rs 500,000."

Geo recently laid off several staff members, many of whom had served the organization for years. A number of other television channels and newspapers have also axed hundreds of employees.

The RIUJ has announced a series of protests that will be held in front of different media organizations. The next stop will be the offices of News1 TV in Islamabad Friday.