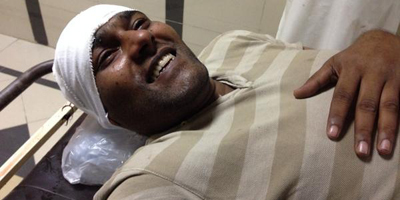 JournalismPakistan.com August 31, 2014
ISLAMABAD: Several media teams were brutally attacked by Punjab Police after Pakistan Tehreek-i-Insaf and Pakistan Awami Tehreek workers clashed with the law enforcers on the Constitution Avenue.

Reports said cameramen Khurram Fayyaz (pictured) of Samaa TV and Anjum Fatmi of Dunya News and his engineer Adnan were injured. Three cameras belonging to the crews were also damaged as was a Dunya DSNG. Also injured was cameraman Saqib Munir of DawnNews Television and two others - Haroon Naseer and Syed Wajid representing Jaag.
Some crew members of ARY, KTN and NewsOne channels were also beaten up.

The trouble began when the protesters who staged a sit-in for more than two weeks demanding Prime Minister Nawaz Sharif's resignation, began removing containers in front of the President House.

Police fired tear gas and rubber bullets that left over 300 people injured among them women. A 40-year-old man was reported killed after falling into a ditch filled with water.

Clashes between police and the protesters continued on Sunday morning.

Reports said that IG Islamabad was telling the media workers to stop covering the protest.
Television footage showed police pulling out a cameraman from a DSNG and beating him up with batons.
Some television analysts thought police had been given specific instructions to target the media. They pointed out that crew of most channels were targeted but those representing the pro-government Geo TV were spared.

Meanwhile Information Minister apologized to Samaa. "I regret the mistreatment of police towards brave Samaa journalists and other staff. I apologize for it on the behalf of the government," he said.