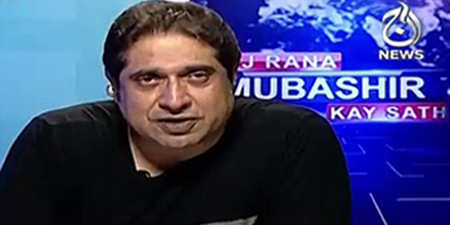 JournalismPakistan.com October 01, 2016


ISLAMABAD – Shakeel Anjum, President National Press Club Islamabad, has demanded security for Aaj Television anchor Rana Mubashir whose car was intercepted by unidentified gunmen on September 23.
Talking to Mubashir on telephone from United Kingdom, he inquired about the latest situation and ensured the journalist of his complete support in this difficult hour. Anjum called on the authorities to take appropriate measures for the anchor's security.
Two unidentified gunmen forcefully intercepted his car near D-Square which was being driven by his son. Mubashir was not in the vehicle. They did no physical harm.
Then journalist said most certainly the gunmen were looking for him.
Related post:
Unidentified gunmen intercept Aaj anchor Rana Mubashir's car