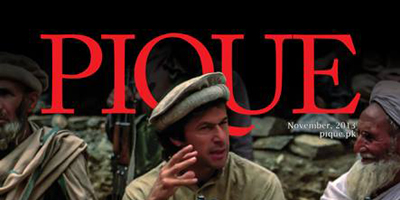 JournalismPakistan.com February 19, 2015
ISLAMABAD: Politician Sheikh Waqqas Akram has ended publishing the print edition of his monthly magazine Pique due to paucity of funds but has instead launched a glossy quarterly, Pique Defence Review.
The monthly magazine was being published with the help of regular contributors from different cities as it didn't have any regular staff.
For the new quarterly magazine, Pique Defence Review, permanent staff including reporters and sub-editors has been hired. The magazine will have a reporter each in China, Sri Lanka, Nepal, India, Bangladesh and Afghanistan.
The publication will carry features and articles on security and defence-related issues only.
Dr Maria Sultan is the magazine's Executive Editor with Dr Zafar Nawaz Jaspal as the Technical Editor. Its first edition was published in December last year and the next one is due in March.
A separate website for the magazine has also been launched while articles and features for Pique will be published each month on its website.