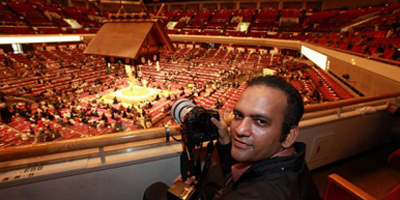 JournalismPakistan.com May 19, 2013
KARACHI: Jahangir Khan will represent Pakistan Association of Photo Journalists at the "2013 World Photographers Focusing on Beijing", an international photographic event sponsored by the Information Office of the Beijing Municipality. The exhibition runs May 20-30 and is organized by Beijing Foreign Cultural Exchange Centre (BCEC) and Beijing This Month Publications (BTMP).

"World Photographers Focusing on Beijing" is one of city's name-brand events during which world-famous photographers shall meet in Beijing and share their expertise and technique.

The event is held annually since 1997. A Pakistani photographer is attending the event for the first time.
Jahangir is one of 50 international photographers selected by the program organizers to shoot in Beijing during the week-long event.

Photographs taken on the occasion would also be put on display in a series of exhibitions across China, scheduled to take place during the next three months. Consequently the photographers would be awarded according to their work and skill. - APP