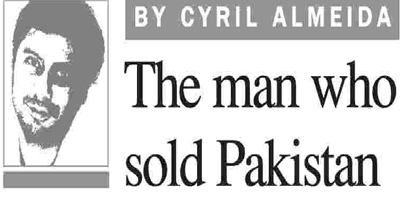 JournalismPakistan.com February 10, 2014 Daud Malik

ISLAMABAD: Defamation notice sent to Almeida and Editor Dawn, tweeted Shireen Mazari, setting off a tweeting battle on freedom of expression, with some tongue-in-cheek comments.
The Pakistan Tehreek-e-Insaf (PTI) leader reacted strongly to Cyril Almeida's assertion in his Sunday column that in the context of talks with the Taliban, Imran Khan is "the man who sold Pakistan".
Repeatedly calling the PTI chief as Taliban Khan, who has the knack of simplifying complex issues, Cyril ended his article with the pronouncement: "Drinking from the fountain of refreshing truth, oblivious to its source. Lapping up Imran. Lapping up Taliban Khan, the man who sold Pakistan."
Before announcing the decision of sending defamation notice, Shireen Mazari angrily tweeted: Shameful how IK who led Pak 2 World Cup victory, gave SKMTH, Namal Coll, & brought his overseas assets 2 Pak is accused of "selling out" Pak1/2 and 2/2 What has Almeida done 4 Pak? Sold out 2 $$s? He shd look up word "to sell out" & then look in the mirror first! Will be taking him 2 court!
Cyril was quick to reply. A midnight defamation notice, on a Sunday no less. Will leave the paper/lawyers to handle it. Ah, the excitement. And he also reposted the article, saying never re-posted a piece before, but then, never been sent a defamation notice before.
Though many tweeters thought that the PTI should have not reacted strongly to an opinion piece, others made light of the PTI reaction. Journalist/columnist Nadeem F. Paracha was quick to pounce, calling Mazari apa, he tweeted: Apa Mazari very angry at Dawn. Making lots of dollar signs and exclamation marks in her tweets. Maybe reads too many comic books.
Abbas Nasir, a former editor of Dawn, didn't like Mazari's hint that Cyril has sold himself for dollars. He said: A columnist's opinion is slander. Saying all with an opposing point of view sold themselves for dollars is insaf? Hehehe.
Not to be left behind veteran journalist Nusrat Javeed, known for his battles with the PTI trolls tweeted: What an exciting news: Cyril gets a notice for his column on Sunday!!
However, earlier he thought that the PTI trolls did not protest strongly over the Cyril article and he did not feel "good about it."
This episode comes on the heels of Dawn newspaper mixing the PTI with the outlawed Tehrik-e-Taliban Pakistan (TTP) – twice in the past few months.
In the second instance, the intro of story read: "Clouds of doubts surrounding the proposed peace talks between the government and the outlawed Pakistan Tehreek-i-Insaf (PTI) further thickened on Tuesday......" It prompted a correction and regret from the Editor, with the announcement that this "negligence in editing was being investigated."