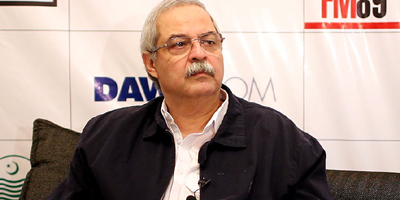 JournalismPakistan.com April 01, 2015
ISLAMABAD: Prime Minister Nawaz Sharif Wednesday congratulated Hameed Haroon (pictured) and Sarmad Ali on being elected President and Secretary General respectively of All Pakistan Newspapers Society.
The prime minister in a message also congratulated other newly-elected APNS office-bearers and said their election was an evidence of trust and confidence of members in their leadership.
"Newly-elected office bearers will work for the progress of media and welfare of journalists in the country," he said in a statement.
The annual meeting of the APNS General Council held on Tuesday at the APNS House elected the Executive Committee for the year 2015-16. Participants of the meeting unanimously elected Hameed Haroon (Daily Dawn) as President, Rameeza Majid Nizami (Daily Nawa-i-Waqt, Senior Vice President), Mumtaz A. Tahir (Daily Aftab, Vice President), Sarmad Ali (Daily Jang, Secretary General), Rahmat Ali Raazi (Weekly Azm / Daily Taaqat, Joint Secretary) and Humayon Tariq (Daily Business Report, Finance Secretary).
The executive committee unanimously elected Fauzia Shaheen (Monthly Dastak) on woman publisher's seat. The committee on the suggestion of the president APNS elected Siddique Baloch (Daily Balochistan Express) as member emeritus.
Photo courtesy: Dawn.com