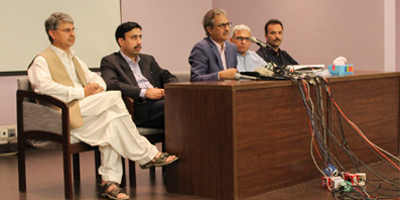 JournalismPakistan.com August 13, 2016


ISLAMABAD - The Pakistan Electronic Media Regulatory Authority (PEMRA) will start issuing licenses to companies for establishing and operating DTH (Direct-to-Home) services in the country from October.

Addressing a news conference here Saturday, PEMRA Chairman Absar Alam said the first DTH license would be issued in October which would help promote national language and culture. He said the services of all illegal Indian DTH available in Pakistan would be stopped.

Alam said he was taking steps to ensure transparency within the organization so that no one could point finger at it. If any one had objection to PEMRA's decisions, courts could be approached. PEMRA respected the court decisions, he added.

He said both PEMRA and media were important for each other. Everyone wanted an independent PEMRA along with free media, which could only be possible when the mediarespected the decisions of PEMRA. There should be no criticism of PEMRA because of an individual, he said.

He said in developed countries, the media was free, but it showed responsibility.

Absar said the owners of media outlets got their machinery and equipment (such as camera) insured and they should also ensure such steps for the protection and welfare of their staff.

He said people in remote areas will benefit from DTH services, which will also help improve the standard of programs telecast by the electronic media.

DTH is a digital satellite service that provides television viewing services directly to subscribers through satellite transmission anywhere in the country. The signals are digital by nature and are received directly from the satellite. The digital signals provide optimum quality in all features and make viewing an absolute pleasure.

Alam expressed the hope that the elctronic media will follow the code of conduct and the owners will initiate programs for improving the professional skills of journalists. –APP (Photo courtesy: PEMRA)
Related post from JournalismPakistan.com Archives:
PEMRA gives green signal for DTH licensing
PEMRA to award three DTH licenses through open bidding
A first step towards direct-to-home TV