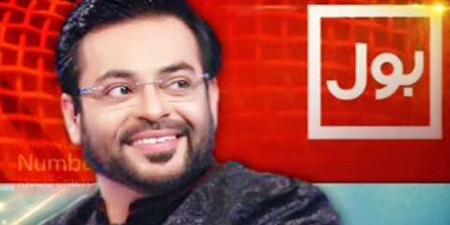 JournalismPakistan.com January 26, 2017


ISLAMABAD – Pakistan Electronic Media Regulatory Authority (PEMRA) Thursday slapped an immediate ban on BOL News program Aisay Nahi Chalay Ga, hosted by Dr. Aamir Liaquat Hussain for preaching hate.
PEMRA said the decision had been taken after several weeks of monitoring during which Dr. Aamir was found violating several clauses of the Media Code of Conduct 2015, Section 20 of the PEMRA Ordinance 2002 and Rule 15 of PEMRA Rules 2009.
The order conveyed to BOL News bars Dr. Aamir from hosting any program, or appearing on screen in any manner (fresh, old, or repeat telecasts) including (but not limited to) as guest, analyst, actor, in audio, video beeper, promo/advertisement of his program or in person.
In its letter to the CEO of BOL News, the authority said that Dr. Aamir had willfully and repeatedly made statements and allegations in programs aired from January 2-24, 2017 that are tantamount to hate speech, derogatory remarks, incitement to violence against citizens and accusing various individuals as being anti-state and anti-Islamic.
The watchdog warned that if BOL failed to comply in letter and spirit, its license would be suspended. Dr. Aamir is also prohibited to deliver, on all other channels, any hate speech, or declaring anyone infidel or traitor, PEMRA said.
PEMRA has forwarded hundreds of complaints it received about Dr. Aamir's hate speech to its Councils of Complaints in Karachi, Lahore and Islamabad for further action. The ban will remain in effect until the respective Councils give their recommendations on the complaints received.