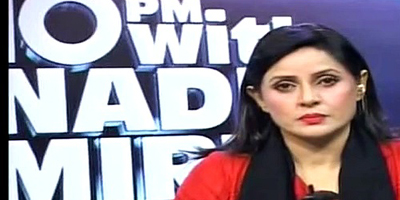 JournalismPakistan.com June 11, 2016


ISLAMABAD - The Pakistan Electronic Media Regulatory Authority (PEMRA) reacting to a shouting match between two guests that turned ugly said Thursday the airing of the program on NewsOne TV was only aimed at winning cheap ratings.
The authority gave the channel until June 17 to furnish an explanation as to why the program '10pm with Nadia Mirza' (pictured) should not be banned or NewsOne be fined Rs1 million. In the program rights activist Marvi Sirmed was abused by JUIF leader Hafiz Hamdullah who also attempted to punch her. He was however, held back by another guest on the show.
PEMRA noted the program host Nadia Mirza had no control in calming down the guests and could have switched off the mike. The authority said the ugly scenes were allowed to continue intentionally. "This was an unprofessional approach and the viewers expressed great displeasure over telecast of such scenes," it said.
PEMRA also pointed out the program was pre-recorded and airing it with all this abusive exchange between the guests was meant to create chaos.
Related post from JournalismPakistan.com Archives:
PEMRA set to fine NewsOne TV Rs300,000