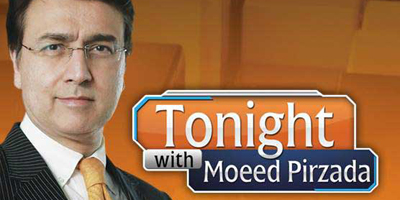 JournalismPakistan.com June 12, 2016


ISLAMABAD: The Pakistan Electronic Media Regulatory Authority (PEMRA) said Sunday television channels were intentionally inviting guests who indulge in mud-slinging after an abuse in a Dunya TV talk show went on air.
The incident occurred during the program 'Tonight with Moeed Pirzada' telecast on June 10. Through a show cause notice, the channel has been given until June 19 to explain its position as to why this program should not be shut down or a fine of Rs1 million not be slapped on them.
During the live show, MPA Mian Mahmoodur Rasheed commenting about MNA Khawaja Asif, hurled an abuse at him.
PEMRA reminded Dunya managers a similar offence committed by Royal TV had led to the closure of that channel for 19 days.
However, Moeed Pirzada said in two separate tweets that he was travelling and not doing the program these days.
"#PEMRA NoticeToDunyaNews? I am not doing program these days; will find out details; However PEMRA is trying to Exert Control for Pol Reasons."
"Why PEMRA issued Notice to my program at DunyaNews? I am travelling, no idea, will find out, apparently because some guest uttered 'abuse'."
The authority regretted that instead of promoting a culture of civilized debate, a trend of encouraging politicians to use foul language was tainting journalism.
Related posts from JournalismPakistan.com Archives:
PEMRA summons erring Channel 24, Dunya managers for personal hearing
PEMRA directive to Dunya News after broadcasting lapse
PEMRA suspends licenses of Royal and Sohni Dharti TV channels
PEMRA's show cause notice to Royal TV