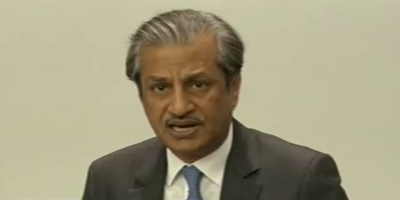 JournalismPakistan.com May 26, 2016


ISLAMABAD - Following a Supreme Court order, the Pakistan Electronic Media Regulatory Authority (PEMRA) has issued final warning to all television channels to ensure that any employee or guest does not hurl unsubstantiated allegations against constitutional institutions such as the parliament, military and the judiciary.
A three-member bench was hearing a petition in the name of Qazi Hussain Ahmed and others versus the Federation of Pakistan on May 24. The court noted that although PEMRA takes action against television channels for airing of explicit and vulgar content, it does not do so over extremely sensitive and important issues that are portrayed in negative light like the following:
- Programs, news and analysis that are against the vision of Quaid-e-Azam and Allama Iqbal
- Defaming constitutional institutions through programs, news and analysis
- Incitement against judiciary, military and Pakistan's democratic system through programs, news and analysis
- Mudslinging against people through programs, news and analysis
- Airing programs, news and analysis that promote sectarianism and extremism.
The court observed that on broadcasting of such content PEMRA just sends out advice and warnings to erring channels although it should give exemplary punishments.
The court ordered PEMRA to take immediate and strict action against programs and channels and submit a report with the Supreme Court.
PEMRA in its final warning to channels said they should refrain from:
- Blaming people without evidence
- Using indecent language
- Inciting others to topple democratic set-up
-Inciting the chief justice or the army chief to take any unconstitutional step
-Labeling others as infidels, traitors or declaring someone as blasphemous
- Spreading sectarian hatred or inciting others to violence
- Spreading chaos in society
- Declaring anyone as a foreign agent
PEMRA warned that violators could face the following penalties:
- For a first violation, under Section 29, a fine of Rs10 lakh and airing of apology
- For a second violation, under Section 27, a ban on program
- For a third violation, under Section 30, suspension or cancellation of license
- For a fourth violation, under Sections 33 (1) (2) and 34 a case to be registered in a court of law against the channel's chief operating officer/managing director/chairman/chief executive officer/director/share holder (or owners). The punishment could include a jail term of up to three years, fine, or both.
PEMRA has directed the television channels to ensure time delay systems are in place and have given them until June 10 to inform the authority about this so that under Section 29 inspection and verification could be done.
The regulatory body also told the channels to constitute editorial committees in their offices and provide the required information about them to the authority by June 10.