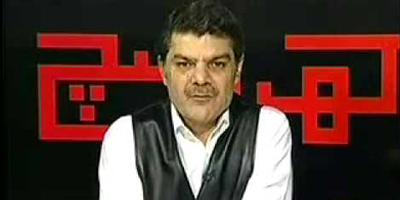 JournalismPakistan.com October 19, 2014
ISLAMABAD: Pakistan Electronic Media Regulatory Authority (PEMRA) on Saturday banned ARY News anchor Mubashir Lucman's programme 'Khara Such'.
The decision was taken in compliance of Lahore High Court (LHC) orders dated 17.10.2014 passed in Crl. Org. No.2070-W/2014, said a PEMRA press release.
PEMRA directed M/s. ARY Communications (Pvt) Ltd (ARY News) to ensure with immediate effect that program "Khara Sach" was not to be aired till final adjudication of the case.
"To ensure with immediate effect that Mubashir Lucman does not participate in any program on ARY News or on any other TV channel being aired in Pakistan either as a host or as an observer or as a participant," the press release said.
Furthermore, court orders have been circulated to all the satellite TV channels (News & Current Affairs) to comply with the orders of the high court in letter and spirit.
ARY Communications (Pvt) Ltd was also informed that in case of non-compliance, the authority shall be constrained to initiate appropriate action which may, inter alia, lead to revocation/cancellation of its license and/or imposition of fine or both under relevant provisions of PEMRA laws. - APP