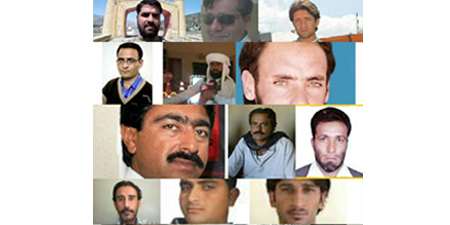 JournalismPakistan.com March 12, 2017 Riaz Mengal



QUETTA – Since 2008, killers of more than 40 journalists in Balochistan have neither been arrested nor their families were given any justice or relief.
According to international media watchdogs and human rights organizations, the province is the most dangerous for journalists.
Amnesty International declared Balochistan's second biggest city Khuzdar as the graveyard of journalists where eight media persons have been killed.
Several media persons got injured in bomb blasts and targeted attacks in the last eight years. Many others were threatened with murder and other consequences; that forced them to quit journalism for good.
The situation also forced many to leave their homes and ancestral places and move to other parts of the country. Journalists from Quetta, Mustung, Khuzdar, Kalat, Turbat, Hub, Jaho, Awaran, Gwadar, and other areas have left along with their families.
The eight media persons killed in Khuzdar since 2008 are: Mohammad Khan Sasoli, Munir Shakir, Ijaz Mengal, Abdul Haq Baloch, Faizuddin Sasoli, Haji Waseem Ahmed Qureshi, Siraj Ahmed Garganari and Manzoor Ahmed Garganari.
Khuzdar Press Club, called the club of martyrs, has been closed down a number of times because of security fears.
Threats and kidnappings are part of the lives of journalists in Khuzdar. Riaz Mengal was threatened over publication of a news item in 2007. When he refused to retract the news, he was kidnapped a few days later.
He remained in the custody of kidnappers for 56 days during which he was tortured. He eventually escaped from his abductors' custody. He was the first journalist of Balochistan to be kidnapped. His kidnapping started a never-ending period of injustice for the province's journalists.
In Kalat, two journalists – Mehmood Afridi and Mohammad Jan Shahbaz Samalani – were killed.
In Quetta Irshad Mastoi, General Secretary of Balochistan Union of Journalists, Abdul Rasul Khjak and Mohammad Yunas, accountant of Online News Agency, and Chishti Mujahid were shot dead.
On the other hand, Saifur Rehman Baloch, Ijaz Raisani, Malik Arif, Imran Shaikh, Shahzad, and Mehmood Hamdard died in bomb blasts.
Lala Hameed Baloch and Siddique Aidu were murdered in Gwadar while Dilshad, who belonged to Gwadar, was shot dead in Lyari, Karachi.
In Kech and Turbat, Razaaq Gul, Abdul Karim, Ilyas Nazir, and Zareef Faraz were killed. Rehmanullah Baloch was shot dead in Panjgur. In Osta Mohammad, Afzal Khawaja, Zafar Jatak, and in Mach Bolan Rehmatullah became victims of violent deaths.
In Hub, General Secretary of press club Khadim Hussain Shaikh, Nasir Rind and Sikandar Palal were shot dead and journalist Mumtaz was killed in district Washuk.
Wali Khan Babar, who belonged to Chaman, was murdered in Karachi.
There are more journalists in Balochistan who have been killed but their names are not shared even by journalist friends, mainly because of fear.
Nothing much has been done for the families of these journalists and their killers not arrested.
Sadly, no journalist association or media center observes anniversaries of these martyrs. Even no columnist, analyst or senior journalist from Balochistan writes or talks about their fallen colleagues. Everybody is quiet. This silence is willful because everybody seems interested in securing his own interests.
Even more sadly is the silence of the media houses for which these slain journalists worked. Except for one or two, no news organization even condemned the killings or held a meeting in their remembrance.
The government's condemnations are nothing but mere eyewash. It is important to keep in mind that only two or three journalists were murdered because of personal enmity while the rest were killed in the line of duty.
No one has ever bothered to ask about how the families of the slain journalists are coping.
Each time a journalist is killed, the usual pattern is that after some perfunctory statements from the local and international journalist bodies, there is complete silence. In Balochistan however, in some cases, not even condemnations were issued – perhaps because of fear or personal dislikes and likes or perhaps because of complete indifference.
Journalists and their families are harassed through various means. The owners of the TV channels fail to stand pressures and distance themselves from reporters, leaving them to fend for themselves. The media owners are only interested in money-making as their sons and daughters attend seminars and workshops outside Pakistan.
One can only request fellow journalists, many of them working without salary, not to put their lives in danger for owners who are indifferent to their welfare. They are not even ready to give a single column or run a ticker if something happens to a working journalist.
History will never forgive such owners. They only care about their own financial interests and personal relationship with those in power.
(The writer is a senior journalist based in Balochistan, and a former President of Khuzdar Press Club).