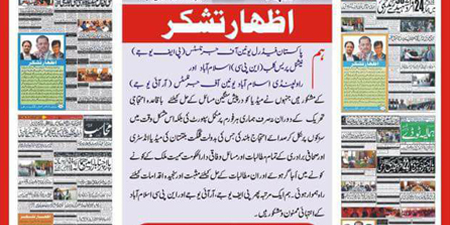 JournalismPakistan.com April 03, 2017


ISLAMABAD – Newspapers in Gilgit-Baltistan Monday resumed publication after two weeks of closure due to a row over payments of advertisement bills by the regional authorities.
The efforts of Pakistan Federal Union of Journalists (PFUJ), the Rawalpindi-Islamabad Union of Journalists (RIUJ) and National Press Club, paved the way for serious and concrete steps being taken to resolve the matter.
All local newspapers in Gilgit-Baltistan suspended publication on March 21 for an indefinite period as a protest against nonpayment of advertisement bills by the authorities and changes in rules which amounted to gagging the press.
The newspapers ran front-page advertisements, thanking PFUJ, RIUJ and the National Press Club.
"We are thankful to PFUJ, RIUJ and the National Press Club who started a protest campaign against the treatment meted out to the media in Gilgit-Baltistan. They supported us at every forum and also came on to the roads to protest," the adverts read.
The newspapers that had closed down included Roznama K-2; Ausaf; Badshamal; Mohasib; Bedar; Himalaya Today; Daily Tarjman; Daily Cargil; Roznama Azaan; Roznama Salam; Sada-i-Gilgit; JB, Express; Siachin; Himalaya and Wateen.