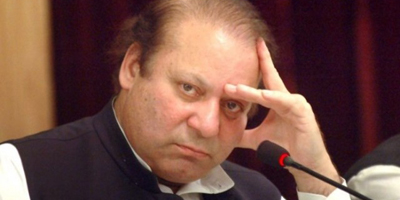 JournalismPakistan.com November 02, 2014
ISLAMABAD: On the occasion of International UN Day to End Impunity for Crimes against Journalists, the Freedom Network has attempted to draw the attention of Prime Minister Nawaz Sharif towards journalists' safety in Pakistan.
The International Federation of Journalists is marking November 2 as the UN Day to End Impunity. The Freedom Network, in a letter written to the Prime Minister said that over 100 journalists and media workers have been killed in Pakistan since 2000. "At least 13 have been killed in 2014 alone, including media assistants. Over half of all these journalists killed in Pakistan since 2000 were target killed," it wrote.
Pakistan stands 158th out of 180 countries on the 2014 Reporters Without Borders Global Freedom of Expression Index. The country also ranks 9th on the Committee to Protect Journalists' Global Impunity Index of the top 10 worst offenders for unpunished murders of journalists.
"The key characteristic about all these journalists killed is that except for one – Wali Khan Babar of Geo TV – the killers of no other Pakistani journalists killed have been identified and punished. This lack of justice and failures by successive governments to find, prosecute and punish the killers has promoted impunity. This impunity – exemption from punishment – has emboldened the forces opposed to the public watchdog role of media and democracy itself to continue persecuting and executing journalists," the FN wrote in the letter written by its Managing Director Aurangzaib Khan.
"Since your government took power in 2013, the attacks on journalists continue. Prominent TV anchor Hamid Mir of Geo TV survived a life attempt in Karachi in March 2014 but Irshad Mastoi, the bureau chief of Online news agency in Quetta, was not that fortunate. He was killed in October 2014.
"Journalists working in rural and tribal areas are most at risk, particularly those working in the Federally Administrated Tribal Agencies (FATA), Khyber Pakhtunkhwa and Balochistan, who are exposed to stress and danger from security agencies, militant groups, district administration and tribal leaders. In FATA, for example, four journalists were killed in 2013. None of their attackers have been identified and punished."
The Freedom Network also suggested the following steps that needed to be taken urgently by the government:
1. Urgent appointment of a full-time federal special prosecutor with full executive authority to probe cases of attacks against journalists and filing their cases in courts to pursue justice. The special prosecutor should have the appropriate office, staff and budget to do this job well.
2. Urgent enactment of a special law on media safety, in consultation with journalists and media workers and their representatives, that should incorporate measures and mechanisms on their safety, and adequate compensation packages for families of the deceased, besides appropriate legal and medical assistance.
3. Urgent nomination of a full-time focal person to represent the Federal Government on the issue of journalists' safety to engage with the Pakistan Coalition on Media Safety (PCOMS), an independent multi-stakeholder alliance of media, civil society and parliament working to promote a safer environment for journalists and media workers.
4. Urgent follow-through on the implementation of the UN Plan of Action on Journalists' Safety and Impunity Issues that Federal Minister of Information and Broadcasting Senator Pervaiz Rasheed endorsed on behalf of the Federal Government in November 2013.