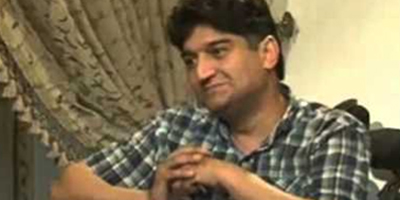 JournalismPakistan.com December 30, 2013
ISLAMABAD: A presidential candidate whose panel lost badly in the elections of National Press Club, Islamabad last week has accused the election committee chairman Nasir Zaidi as being biased.
In a Facebook post, Matiullah Jan (pictured) of Jago Panel who got only 203 votes said the chairman had lost respect for his own words.
"Nasir Zaidi sahib, who had stood like a rock against martial law regimes and bore the brunth (sic) of public lashes. But today he has forgotten all about his past journalistic pride," he wrote.

"In the recent National Press Club election, it was discovered that the election committee, which he was heading, was using two separate lists for crossing names of those who had polled their votes. This was indeed scandalous and we protested to him and his election committee. He exchanged the two lists to satisfy us, but it was already too late for this. Apparently many voters polled their votes twice by standing in second line after polling the first vote. "

Mati claimed that at the time of results announcement, Nasir Zaidi was requested to tally the number of votes crossed on both the lists and see if there were any names crossed on both the lists and count the number of names crossed on both the lists and also to tally the figures with the number of ballot papers recovered from the ballot boxes.
"He refused point blank and on our insistence publicly announced that he was sealing the two lists used by the election committee (which he did in front of all of us) for examination on Monday before announcement of the official results. I mentioned this fact in my closing speech after election results also," Mati said.

"Today on Monday when I called him up for examination of the voters lists as was promised by him he gave the excuse of being indisposed and unable to come to the press club. After some time when I called him up to remind him of his promise that the election results could not be officially announced before examination of both the lists, he suddenly disclosed that he had already announced the results. This was obviously a disgrace to the man Nasir Zaidi that we revered for such a long time. He got annoyed on my protest and hung up the phone."


The Jago Panel is now demanding that the two lists sealed by Nasir Zaidi be preserved for future examination.
Mati lost to Shahryar Khan of the Journalists Panel who polled 1206 votes. The Journalists' Panel made a clean sweep of the polls for the eighth consecutive year.