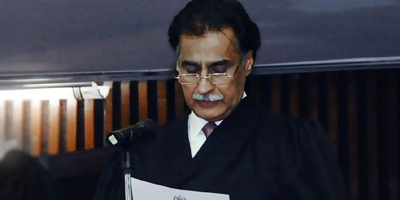 JournalismPakistan.com April 07, 2015
ISLAMABAD: Speaker National Assembly Sardar Ayaz Sadiq has accused the media of creating rifts between him and Pakistan Tehreek-e-Insaf over the latter's resignation issue.
During joint session of the parliament, leaders from different political parties including JUI-F and MQM raised questions on role of the speaker regarding acceptance of resignations from the National Assembly. "I have been performing my duties as per law ….. the media has tried to create rift between me and the PTI members over the resignation issue," he said.
The media created unnecessary hype on the PTI's resignation issue, completly ignoring the fact that it was purely a constitutional and legal matter, he said.
The speaker urged the media to play a responsible and positive role on national issues and refrain from sensationalism and playing up petty issues just for their ratings.
The PTI members submitted their resignations in the last week of August last year with the National Assembly secretariat while protesting against the government over alleged rigging in the May 2013 elections.
The party on Monday rejoined the National Assembly after the government agreed to constitute a judicial commission to probe the rigging within 45 days.